Ever since i know i am going Japan , i started serving through the net regarding their Fashion and stuffs ! it is so Oh-My-Lollipop INTERESTING !
Do you know there are many different types of fashion style in Japan and there is a name to each of them ?
There are
Decora , Gunguro , Schoolgirl , Gothic Lolita , Visual Kei , Gyaru , Kogal , Cosplay... and also Harajuku
(Harajuku consists all kinds of the style , even mixes of them) .
♥ Harajuku Girls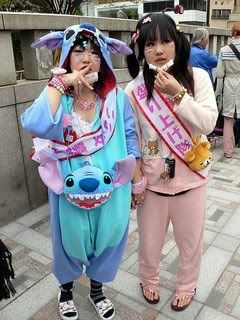 ♥ Kawaii or Super Kawaii style (There's also this style too !)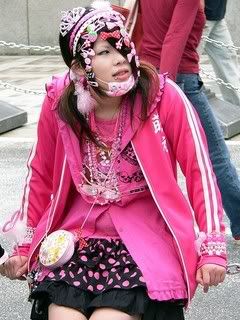 ♥ Decora

Each style is different other than dressing , the makeup and hair style are greatly different too !
ISNT JAPAN COOOOOOOOOOOL ?!
At least way cooler than Singapore's

Tee-shirt and shorts/jeans

fashion !
Maybe some day i shall gather some research on each of them and update regarding each different style . it should be fun knowing more about them . You can do your own research on them too . (:
Dressing up can be sooooo much fun if you willing to spend the time and money plus have the guts to walk them out on Singapore's streets and be the spotlight of the crowds . Japanese really do have great fashion sense . Even normal looking person can look outstanding . Even plump people can look great .
Why ?
Because they are daring enough to dress up , put on thick weird makeup and have some cool hairstyles !
i think i will go crazy when i'm in Japan . i'm already starting to think of which sets of clothes to wear them in Japan . No way of Tee-shirt and short or any very simple outfit !
"Hello , i'm going Japan leh ! it will be a total waste if i'm going to wear those simple outfits . But of course not that kua zhuang lah ! Cause i dont have , plus i'm going on a study tour not a fashion tour . ): "
i'm currently also into Japan products !
♥
Canmake perfume
looks pretty ! Not too sure about the smell . i will get it if it is those sweet (fruity) scent cause my sensitive nose cant stand floral scent ! That's why i dont buy/apply perfume . Sadded . ):