For the first time in my life I make occasional visits to Singpost , and for the first time in my life I'm mailing out and receiving overseas package , all because of snail mails ! I remember myself doing letter writing when I was younger , but that was all locally ! I seriously never thought I would write with people far away from this tiny island . Maybe partially because I didn't know how .
So after some time of exchanging postcards (which i have blogged about and i don't think i'll blog every single postcards I've received cause the collection has expanded to over a hundred - too many for me to catch up on) , I found
swap-bot
. My most awesome findings ever ! It got me addicted to snail mailing which is soooooo fun ! Kinda like postcards which I won't know what I will receive , but I can choose the type of things I wanna swap ! Gradually , as I get addicted , I find myself pen pals too , so I can have never ending mails . Awesome yea ? And the best thing is , I can see what others in other part of the world has and also understand their culture through snail mail . This is so much better than digital conversation (email , skype or any online messenger) because it's tangible and personal . All in all , loving all the surprise gifts I received , no matter big or small ! It is just so fun to receive things even if just a letter !
So what have I received recently on swap-bot ?
⋙ Hello Kitty swap
⋙ Ad/Free Postcard swap
Yes , this is a ad/free card ! From US ! I totally can't believe this is FREE to take ! It just looks so awesome like a store-bought card ! How I wish Singapore can have such awesome free cards as well . hehehe .
⋙ Envelopes for money swap from Lithuania . Like Chinese red packets those kind but I don't know much about Western culture regarding these envelopes .
Anyone wants to enlighten me ?
⋙ Envelopes for money swap but apparently the swapper got confused about the swaps since she has been engrossed into handmaking envelopes hence these handmade envelopes were mailed to me .
⋙ QUICK 5 Somethings swap !
This is definitely more than 5 somethings ! My most amazing package ever received ! I totally love the swapper's handmade pouch and wallet . The disposable toothbrush is damn cool too ! Not the typical type of one-time-use-toothbrush ! This has (what i suppose) toothpaste in the middle and on the package it writes no rinse is required . Cool or what ? And I don't think Singapore has this .
⋙ My first pen pal reply from Finland .
⋙ My first pen pal reply from South Korea .
⋙ Cute Stationery Stuff swap .
Another amazing package ! Authentic Hello Kitty postcards (with Sanrio logo on the back) are one of the packs which I forgot to take out and snap . I can totally tell this person collects and exchanges kawaii brands (Sanrio , San-x etc) products .
Since it's a swap/pen-palling of course , I mail out too ! Here are some I've mailed out :
⋙ For a swap and first letter to my Japanese pen pal .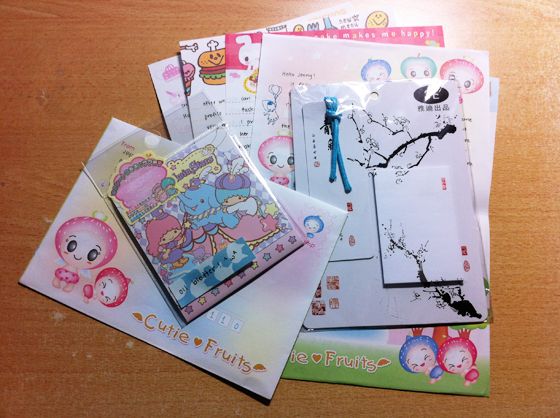 ⋙ First letter to my Finland pen pal .
⋙ Some postcards for a swap !
⋙ These are also postcards for a swap . I love the first postcard with watercolor painting of Ann Siang Hill bought from
Cat Socrates
. The second card is from
Cat Socrates
too .
⋙ For my Poland pen pal .
⋙ Stuffs I mailed with my second letter to my Finland pen pal - early xmas gift for her .
Though the process is fun , buying stamps for package is not ! Especially when package is heavier . I just spent a bomb on postage stamps , so I guess I won't be doing much expensive swaps or package . All gonna be small and light package ! kekekeke .