Now
Nana's Green Tea
is in town - Plaza Singapura (New Wing) Level 3 !!! On this coming friday (21 December) , it will be their Grand Opening day in conjunction with the Christmas festive ! For a good cause , there will be a charity drive for Beyond Social Services and Child @ Street 11 with balloon sculpting and caroling by the kids . Event will run throughout the entire day . The executive director of Beyond Social Services , Mr Gerard Ee, will be the guest of honor .
Best of all , there will be a great deal for everyone , especially matcha latte lovers (like me ! hahahaha~) -
ONE FOR ONE FOR ALL MATCHA LATTES !!!
It lasts for only a day ! So faster date a friend or your partner to go on friday ! If you have not tried before at their Jcube outlet , this is your chance to do so ! FYI , Nana's Green Tea is a popular cafe that has branches located all around Japan ! So it is definitely worth trying ! (๑´ڡ`๑)♡ At the same time , you will also be doing a good deed as half of their proceeds will be donated to the two beneficiaries .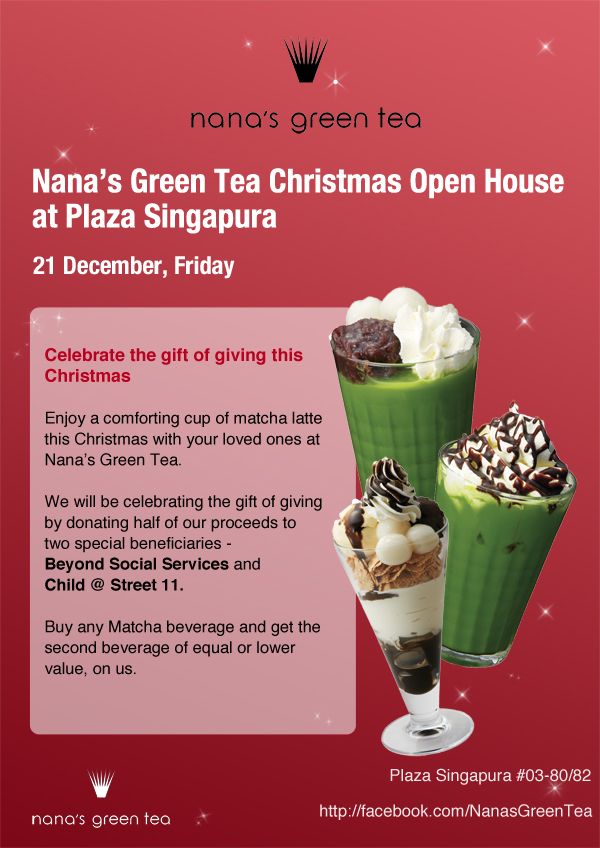 So ... do drop by and support if you are in town or near town or have the free time or looking for somewhere to spend TGIF or need a break from Christmas shopping ! (*≧∀≦*)
じゃね〜 ─=≡Σ((( つ•̀ω•́)つ
*flying off for a cup of awesome matcha latte*