Wooohooo i'm back blogging ! But with laziness too ! Cause i'm gonna make it a quick one as i'm in the midst of watching a Korean variety show . i started watching it late when it has already like 70+ episodes ? Hence i'm being a hardworking audience now . (o´艸`)
Now now , back to topic !!! Yea , my 21st birthday celebration ! That was like more than a month ago ! hehehehe It was celebrated on 5 November which was 11 days before my actual . i'm glad i made the right choice of dates . Cause i predicted my actual would be around the same time as my assessment day . And indeed , my assessment week was the same week as my birthday . But that doesn't mean i've got plenty of time to plan and design for my birthday . Almost a chaos ! Cause i had to settle cake , food , props etc everything while rushing my projects . Crazy period ! How i wish i had a break before my birthday so i could plan a better one .
But all in all , thanks to all my friends who came down ! Without them , no matter how well the party is planned , my 21st wouldn't be so fun . i feel the love yo ! (๑¯̆ ᴈ¯̆๑)♡♡♡♡♡
And sorry (●´⌓`●) for the lack of seats due to the small space !
And soooo ...
♥ My 21st Birthday Party which was held at Costa Sand Resort (Pasir Ris) with the party theme - Ocean . Dress code was blue and/or white . And everyone did wear either colors or both ! Woohoooo ~ ઈ(◕ั◡◕ั)☄*゚*♥♡"
Ohya ! i also had a new haircut for my 21st ! If you realize , it was much shorter than before . And i'm glad i did though i was also fighting with submission at the same time without sleep . Cause my hair looked neater than before . (But then my eye makeup failed ! One eyelash was falling . wtf ! And i didn't know !!! Plus an okay smile ended up a tired smile !!! ◢▆▅▄▃崩╰(〒皿〒)╯潰▃▄▅▇◣ but it isn't that obvious in these few photos i've picked + the resize for this post . >艸<)
♥ My guestbook made by me night before . It wasn't well-made . Kind of loose but luckily the thread didn't break off . But well , it was all last minute ! ◟꒰◍´Д‵◍꒱◞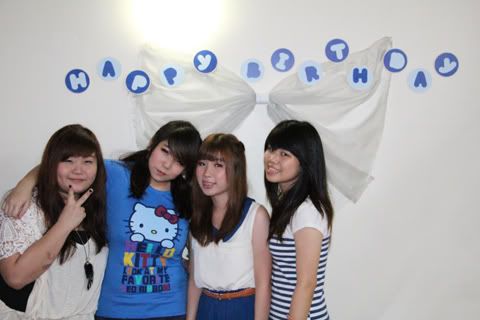 ♥ Big hugs and love to my darlings who stayed with me since day one night of chalet (party was on day 2 of chalet) and helped with the decorations . Not only that , they assisted me throughout the whole party !!!
And in fact , i had class till late during day 1 of chalet plus i needed to get last minute props , as a result , they had to wait for me till night to start riding off to the chalet . So the chalet was kind of wasted during day 1 . └(T_T;)┘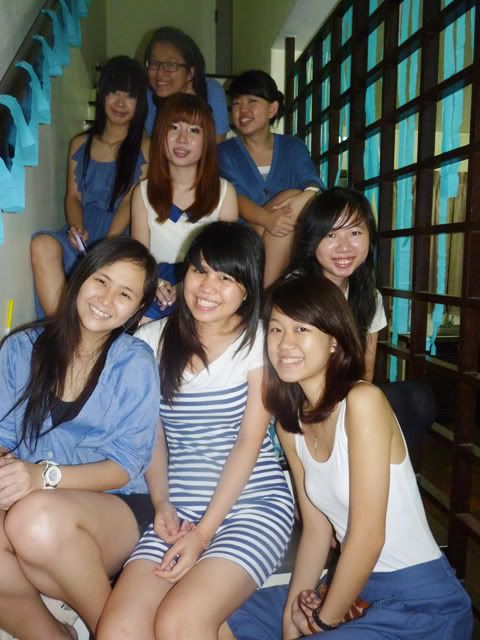 ♥ With my dear CS gals ! (๑'∀'๑)♡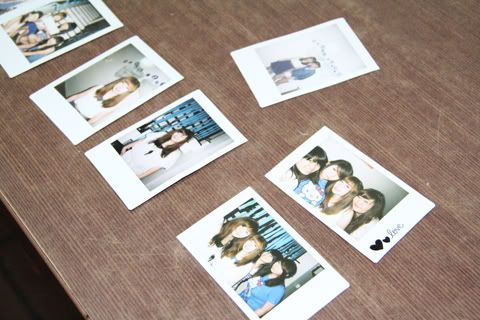 ♥ And i took polaroids with all my friends and family too !
Then time to cut cake !
i'm now so tempted to visit their cafe to try out more awesome Japanese cakes !!! (๑´ڡ`๑) Who wanna go with me ?!!! HAHAHAHAHA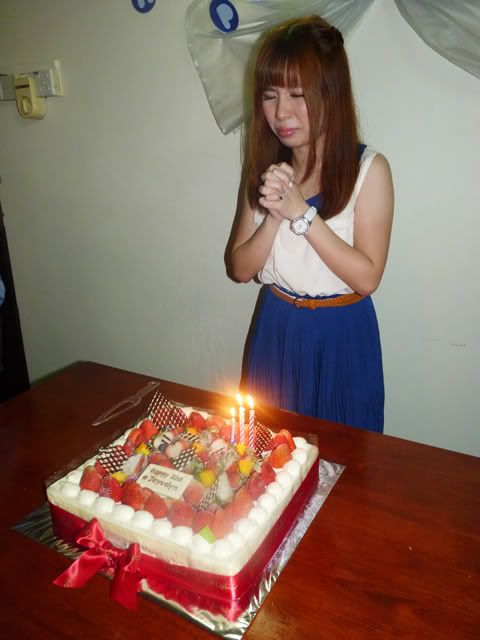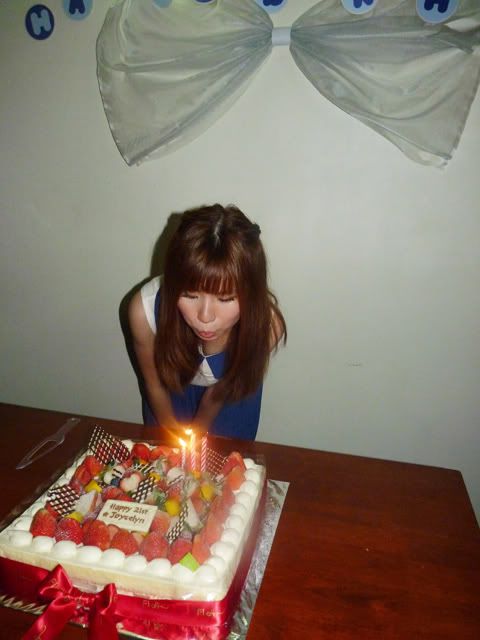 ♥ My K2 > Park View Primary > White Sands Primary peeps ! In short , my White Sands Primary friends !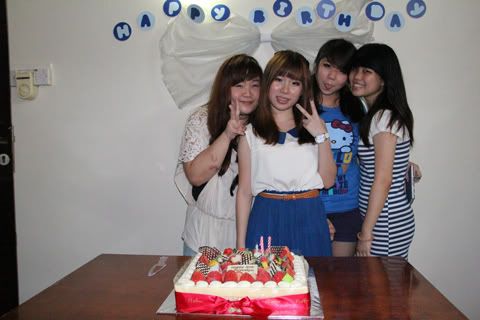 ♥ My aii fairies sisters who are also my (Yuan Ching) Secondary friends !
♥ CS gals !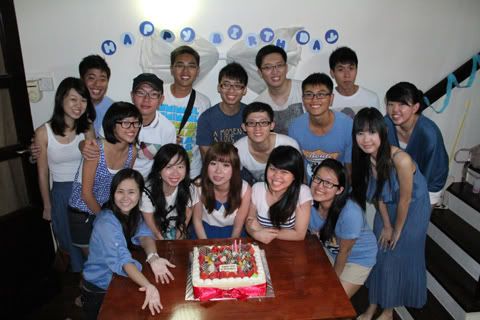 ♥ CSCC = poly clubmates !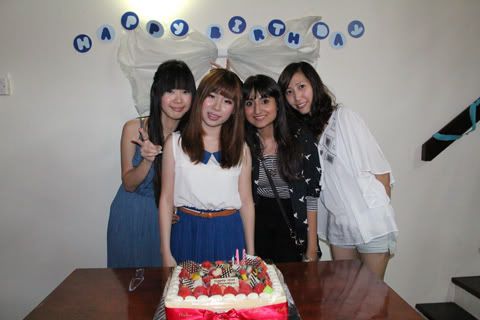 ♥ Lasalle classmates !
Now is open-the-present time ! ☸ヾ(´☉ ω ☉)ノ☸"☸ヾ(*´▽`*)ノ☸"
♥ Gift voucher from my 2 primary school peeps , Stella and Yubing . Actually Yubing was my k2 classmate too , along with Yiting who came too ! So glad that i still have kindergarden friends with me but honestly , i can't remember a thing about them during k2 days . (◞‸◟)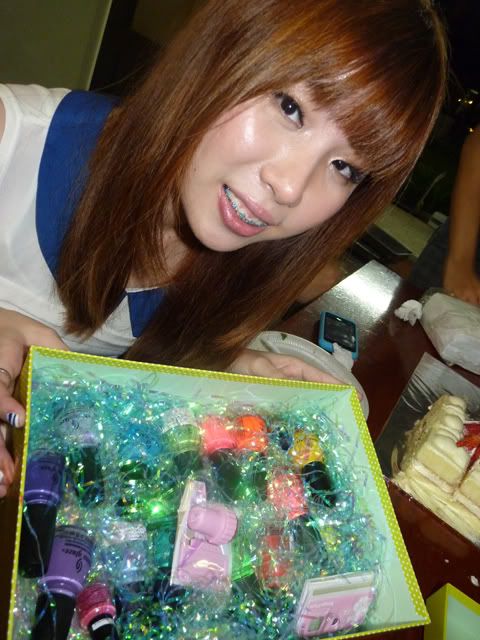 ♥ From my CS and Lasalle peeps . *start doing nail art*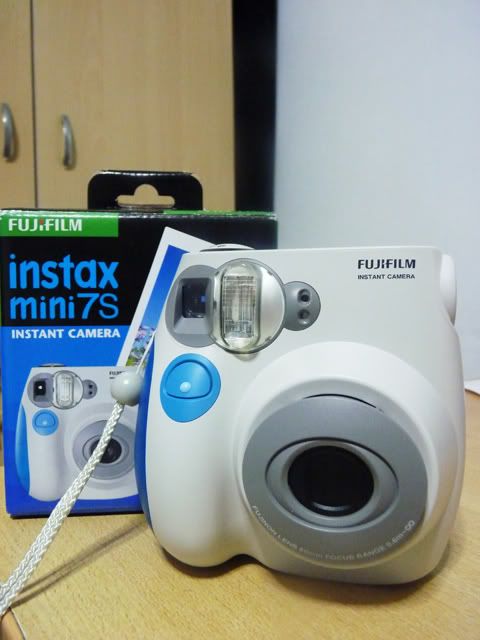 ♥ Polaroid from my primary school peeps which was also used during the party . Oh yea ! So now i've got a polaroid and now the expensive films becomes a problem ! i actually thought of doing polaroid photography BUT films totally got me into consideration ! Cause it definitely will cost me a bomb . Shall see how !
Actually this holiday i wanted to play with lomo cameras but laziness stop me ! (๑×ω×๑)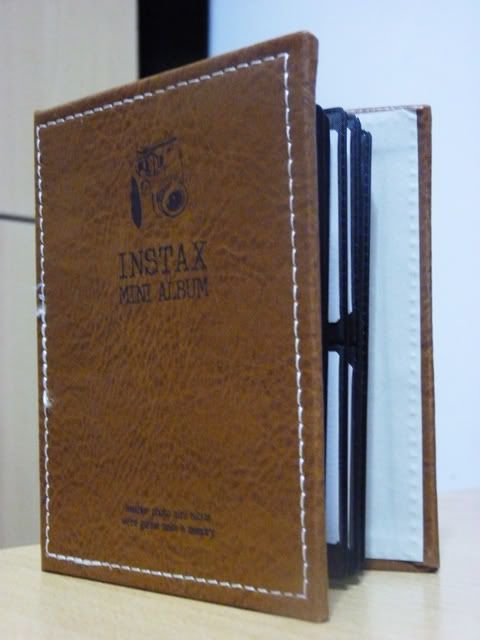 ♥ Last but not least , what's a polaroid without films ? Hence my 4 darlings + their 2 boyfriends got me sufficient films to last the night and an album to store them . Actually it was kind of risky for them to get , cause i was not sure if my primary school friends did get a polaroid or not for me and miss pan also did not bring hers . And yea , in the end i've got a polaroid and an album filled with memories of the night !
All in all , my 21st party was a fun one ! i seriously haven't had a birthday party since 10 years old which was 11 years ago !!!! Before the party , i was rather scare what if no one turns up or only a few could make it ? But in the end , the place was so overcrowded that there wasn't sufficient seats for everyone . Actually is only outside overcrowded cause i blocked the stairways to the only room in the chalet so indoors nowhere to sit . (Cause all our (me , my aii sisters and miss yin's bf Ianie) valuables , clothes , everything were upstairs on the floor . And all of them except miss pan are just acquaintance with my cs peeps and none of them knows my primary school peeps .) How i wish i could book a bigger chalet but school timetable was hard to predict . Rahhhhh ~!
Okay shall stop my lengthy essay !
THANKS EVERYONE FOR COMING DOWN !!!! BIG LOVE !!!! And BIG THANKS TO MY PARENTS WHO SPONSORED ME FOR THE PARTY ! SO WITHOUT EVERYONE + MY PARENTS , MY PARTY WONT EXIST ! (๑¯ิε ¯ิ๑) Thanks for being part of my 21 years of life and hope to see the same faces 21 years later !!! (๑✧◡✧๑)
ps. i guess i won't be blogging about my November favourite purchase . and i'm not sure if i will continue due to my laziness ! (๑•ૅૄ•๑)