After a year , i finally met up with 2 of my Siglap Secondary friends again . Silent meetup cause we were rather quiet throughout . Basically , we got hook to our own phone , texting etc , most of the time . ꒰*´∀`*꒱͛ But nevertheless , it was nice meeting them again .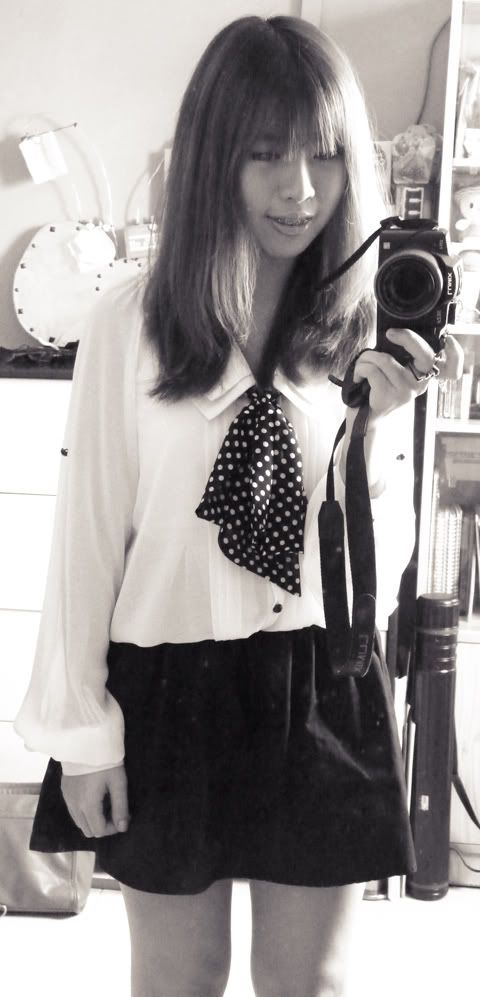 ♥ My OOTD !
Alright , enough of retarded selca !
♥ Michelle , Arini and Me !
We used to call ourselves J.A.M due to our names' initial . Actually , i think we only used once la ! To play hide and seek in school ! hehehehe . (o´艸`)
Dinner was at Nando's . (๑´ڡ`๑) Our first time there ! But Michelle has dined in its outlet in Australia before .
After dinner , time was 7.30pm . Cause before dinner , me and Michelle found out that VanNess Wu would be at Bugis as well for autograph session at 7.30pm . And since we didn't know what to do next , we just crashed in . Superstar was late and we waited for 15 minutes ! (●´⌓`●)
♥ Nah ! Handsome superstar !
Actually i didn't get to see him in real life , only my camera did ! i was too short and also stood quite far behind with all the heads blocking me ! ◟꒰◍´Д‵◍꒱◞
♥ Durian Snow Ice at 記得吃 (ji de chi) before we left separate ways . Actually it's only me who got separated as i'm no longer living in the East like them . (๑•́ ₃ •̀๑)
And ohyes ! i'm flying busing to Genting this month end , which is also year end ! SO SEXCITED !!! Though i'm going with my family but miss pan and miss yin will be there too with their families !!! Same days ! Not only that , me and miss pan may be boarding the same bus to and back as we coincidentally booked from the same tour agency ! How cool ?! i'm so looking forward to this get-away-from-Singapore trip ! Woohoooo ~! ☸ヾ(´☉ ω ☉)ノ☸"☸ヾ(*´▽`*)ノ☸"