i know everyone hates messy table . Things laying everywhere , such a messy scene ! Me no like too ! But it's really hard to find a cheap and chio storage holder . Cheap ones are fugly ; chio ones costs a bomb ! FOL !
it was till i chanced upon
this photo
in tumblr yesterday which inspired me :
Aiya ! i know it's the pink that i hate but who cares ! i got inspired by the holder on the most left and i started to diy something similar last night .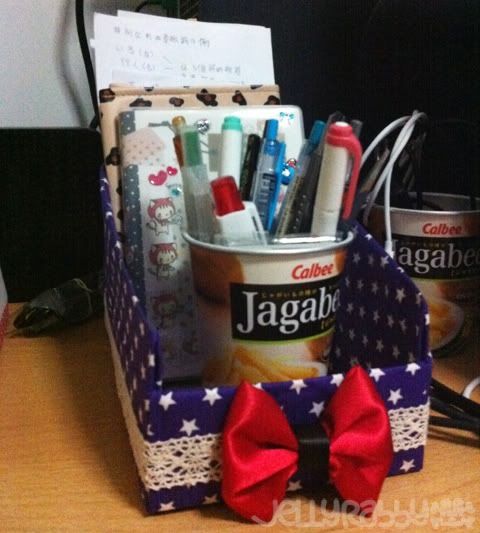 ❝ CHEAP & CHIO & ENVIRONMENTAL FRIENDLY ! ❞
For the first time i'm gonna share diy tutorial . Honestly , i was actually thinking of updating this in my CPJ ! FML ! So i just grabbed my iphone 4 to snap the shots .
BLAME IPHONE4 CAMERA IF YOU FIND THE PHOTO QUALITY SUCKY !
★ Materials Needed
★
⑴ 2 snack/recycled/unwanted boxes
⑵ Glue + CHEAP Paint Brush
⑶ Double-sided tape / Scotch-tape *OPTIONAL
⑷ Cloth & any other decorating materials
Before i start , this is the glue i'm gonna use :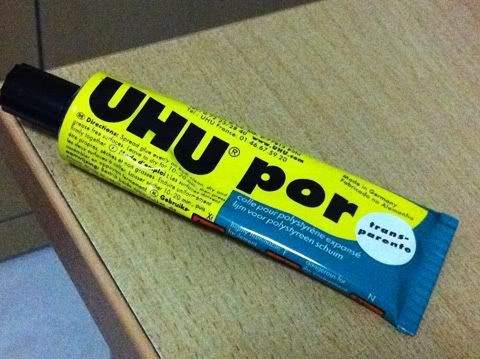 • Dries slower compared to the normal uhu
• Able to make further adjustment even after sticking
• Less mess
TIP : Use the cheap paint brush to apply glue ! More evenly spread !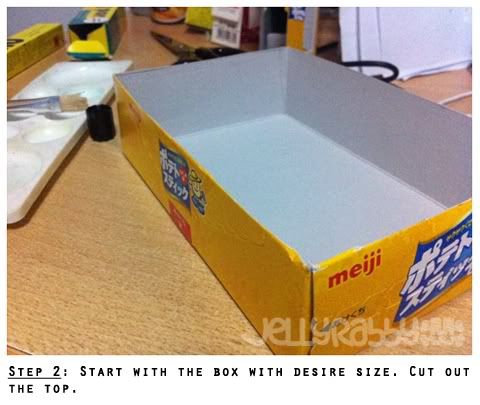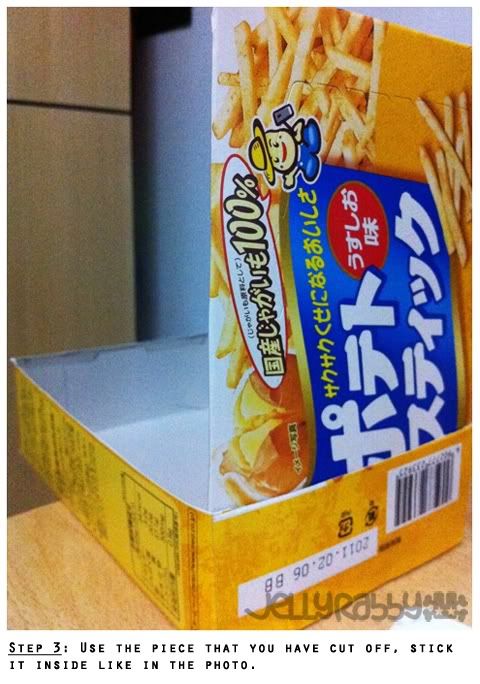 ▲ This is when you can choose to use double-sided tape OR scotch tape after gluing to to stable the piece .
▲ Use scotch tape to tape the 2 sides , so that the 3 pieces stay together well .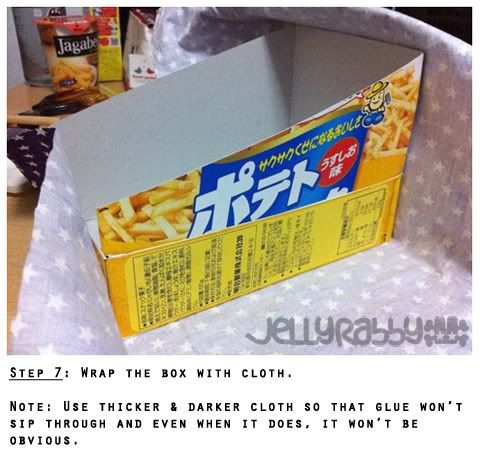 ▲ Bigger the cloth means you can wrap the inside too . And you can ignore the edges as it will be hidden inside unless the threads come off badly , you can trying folding in .
▲ Chio and cheap cloth can be found in Chinatown (2nd level of the hawker centre) for less than 10 bucks !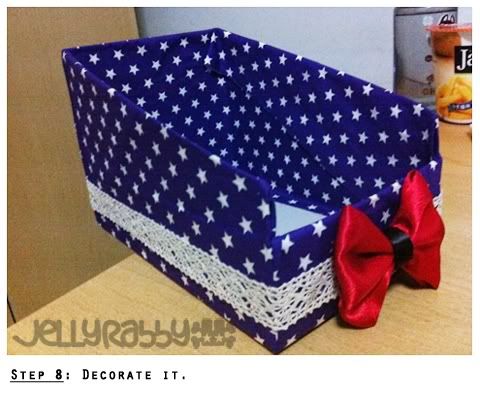 ▲ Chio decorating materials can be found 2 bucks at Daiso ! The lace used was gotten from Daiso ! ♡
If you think the holder you have done is too big , you can get storage divider from Daiso ! Two bucks cheap cheap ! ⤵⤵⤵
(Ignore my fugly hand , thank you !)
❝ You can break to the desired length you want but cannot regret . Even when you said
"aiya ! short of two more bars !"
, there is no way back unless you break from the leftover again ! ❞
AND YOU ARE DONE ! MONEY SAVED !!! & SOMEMORE LOOKS LIKE THE WAY YOU LIKE/WANT !
Hope you like this tutorial !
And friends , don't ask me to do one for you ! ME LAZY LA !!!
≧艸≦
P.S.
: Feel free to ask me if you are in doubt !
じゃね〜 ♡