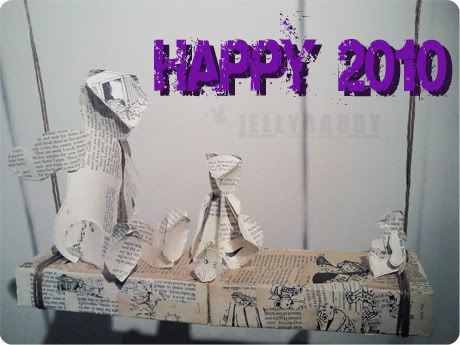 it's already Day 2 of 2010 - a brand new year - but it passes like just another day for me ! On the second last day of 2009 i started to fall sick and fever on the last of 2009 . Really bad ending for 2009 !
But i have been watching from drama to drama . I HAVE FINALLY COMPLETED 《原來是美男啊!》 ! OMGGG ! This drama just make me love Hongki more ! Super love his happy-go-lucky and funny attitude like a little boy ! HAHAHA . Anyway he's also not old , young like me ! ♥;(●^3^●メσ)
《原來是美男啊》 is like the combination of 《花樣男子》 & 《帥男偶像》 . i've also just completed 《小公主》 . Simple story yet meaningful . it talks about a thoughtful girl whose only father passed away leaving her alone with nothing and how she survived in the school . And the ending is like totally cool though nothing special . (o´・艸・`o)
Hahaha , i think i've been really engross with dramas ! But in
2010
, i hope i can have a happy graduation 、either get into University or land myself into a freaking cool job ! i wanna shop overseas often too !!! So , MORE CASH FLOW IN , THANK YOU ! hehehe . & i
DONT WANT
to fall sick already !
My dad told me his friend recommend
Canon 500D
for better photography . i'm considering it but before that , i wanna double check if the size isnt
that
big for me to carry around . And some of you may wonder why i suddenly so interested in getting such good cameras . Anyway , this isnt any sudden thing . i've actually started looking into it since year 1 when i started my photography lesson , just that i kept on and off as my parents didnt agree to get me one such expensive camera .
i also dont know why suddenly agree to get me one , and help me to get opinion from his friend whom is a professional in photography
.
If i really getting Canon 500D ,
i hope i can produce good photos out of the awesome camera !
But i still dont understand a single shit about lens !!! i dont remember my physics or anything taught by LeonChua ! (
Opps!
) i remember LeonChua once taught a maths calculation for lens (or something related) during my first semester in Poly , but it was too complicated for me to stay focus and understand . 囧
But one problem !
DSLR WITH DEFAULT LENS CANT ZOOM AS FAR AS I WANT !
Unless i get the fucking long and heavy lens , then it will be super troublesome to bring around ! Or is there a small one for me to invest on ? (*´д`)??
(After some research ...)
This lens
looks not bad but so fast get new lens meh ?! And lens are SUPER SUPER EXPENSIVE !!!
HOWHOWHOWHOW
... ?
Oh crab prawn and lobster ! i think i should just continue my dramas and stop stressing about cameras for a
few
moments !
撒憂娜拉 ~ ♥