i'm getting busier and lazier this week . i've been out of the house since last Friday which was the first day of Connection Camp .
Connection Camp was a 3 day 2 night camp . The purpose of the camp has been fully shown as the campers were pretty high and bonded as a whole rather than in their respective group . i think this year's Connection Camp seems much more successful compared to the past two years (referring to the number of participating campers) . But being a GP , i find myself spending more time waiting for the campers than interacting/leading them in games . However , i'm still glad to see the campers getting bonded as a whole and also bringing the camp high to the max . And disco night seems more high than before ! :D
After the camp , clique managed to have a lateh session after SOOOOOO long ! i don't even remember when was our last gathering . Though not everyone in our clique went but at least there were most of us !
There's Wenjing , Zhanwang , Irene , Rachel , Seto , Nathan , Genli , Chongming , Chongyan , Crystal , Moonkian , Cindy and me !
We had Sakae Sushi buffet for dinner . As it was a Sunday , we had to go all the way down to ICON Village which was the only place buffet was available . i ate soooo much that i could not stand straight !
(Photos
here
by Wenjing !
)
Next day was Monday and was supposed to be another running day for Wenjing , PLH and me but WENJING OVERSLEPT !!! ZHANWANG ALSO OVERSLEPT !!! So end up only me and PLH ran . Finally Wenjing called up but that was after our run and when we were resting . And so the next moment , we were in Wenjing's house lunch-ing and slacking ! Zhanwang also came to pass me and PLH our 60 bucks ! WOOOOOOOOOO ~
Tuesday evening met up with clique again for movie , 4bia 2 . Before that , i met up with Rachel , Wenjing and Zhanwang for the so-called-dessert Wenjing referred to at the Lai Lai beef restaurant . But that was a beverage ! (=.=) Ordered 2 small dishes and shared too . Not bad ! Irene , Hweesheng , Nathan and Genli joined us after that . And we went in without Seto and Shiying ! Cause they were LATE !!! So we left the two tickets at the entrance .
4bia 2 consists of 5 short stories . i think i prefer to watch one whole long story ! Short stories are always very summarized in order to let the audience understand the storyline . And i think the last story is stupid ! It's totally 自己嚇自己 in the story .
Clubbing on Wednesday night was a virgin experience for most of us
(i think mostly girls ba? LOL)
. This event was supposed to be last week but postponed to this week . PLH , CLP and me left our belongings at Wenjing's house in the late afternoon . We all seemed to be like attending dinner and dance or gradnight - makeups and dresses !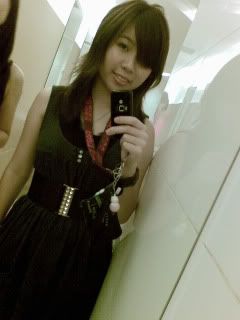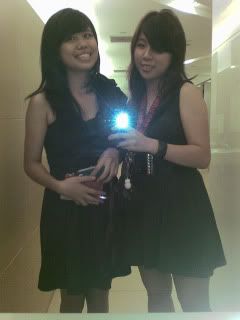 Blah blah blah , and we were at Butter Factory ! Long queues welcomed us ! And it was Ladies' night so it was free entry for the us girls - PLH , CLP , Rachel , Wenjing , Shiying , Irene and Melissa - but 28bucks for the guys - Seto , Nathan , Hweesheng , Joshua , Genli , Tawei and Zhanwang .
While queuing for drinks , Wenjing commented that
this
looks like PLH :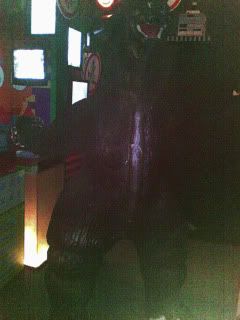 ROFL !!!!!!!!!!
(Sorry for the lousy photo!)
We shared the free drinks we managed to queue for and drank before we started dancing in another room . i drank 2 cups of Ribena/Cranberry with volka !
The dance floor was flooded with people . And i felt unease dancing in the crowd of unknown people . We got scattered into 2/3 groups in the beginning . But in the end , we managed to gather together again . And the guys formed a circle for us girls ! THANKS GUYS ! :D That's when we started to get high together within ourselves , just like those disco nights we had in camps ! And shockingly , Hweesheng danced and sang along too ! (This is my first time seeing him so high!) We actually danced for hours till the last song , unexpectedly .
Then PLH , CLP and me went back to Wenjing's house till morning before heading home for more sleeeeeeeeeep !
That night , cultural has organized a lantern festival event . i think the karaoke part was the BEST ! i felt like spending the whole night in the karaoke room . XD We had games but then we seniors keep creating problems for them . HAHAHAHAH . But at least everyone was enjoying and having fun .
Yesterday meet up with Joanne at Bugis for lunch . We haven meet for months since Lollipop's last event ! We did some catch up and random shopping around the boring bugis ! Then i went to meet CYYQ and CLP for shopping at Orchard . We all bought stuffs from Diva at ION and the staffs there were friendly . They even initiated us to try on their accessories except me . Cause i already know what i want . When we were at Far East Plaza , CLP tried shoes in a shop . And while waiting i noticed a studded wedges/sandals and went to try on . And it looks nice ! Best of all is the price - 9.90 bucks !!!! FREAKING CHEAP ! Without any further hesitation , i bought it ! If i dont buy it , it's really a waste ! And the original price shocked me too - 33.90 bucks ! THAT'S A BIG DIFFERENCE !!! After that was like playing hide and seek with mooncakes as CYYQ wanted to buy for her future mother-in-law ! We went round and round in ION and back and forth Mariotts Hotel , and ended up buying in Paragon .
That late night , we had party world session without PLH (she went home !) and with Yansoon and Andy . Alcohol and singing till 2AM for home ! And for the first time i reached home at 2.30AM without receiving any calls/sms from parents !!! OMGOMG !!!
And yea , my lantern festival was celebrated with my bed and computer for the whole day ! i finally can rest !!! My week is really so happening which i somehow cannot believe . CAUSE I'M AN OTAKU ! And CSCC Chalet starts from coming Monday till Wednesday . Later on Sunday night need to mass convo with clique . WOOOOOOOO ~~
And i miss the daily mass convo we used to have
.