i think i'm losing my motivation to blog . Always wanted to post up the happenings yet when i sat in front of the computer , i can't help wondering to other places other than my blogger account . Well , at least i still use my time wisely with my non-sexciting online shop . Wenjing and i are still trying hard to bring in more stocks and we are still in the process . Hopefully steady business before ITP ! Yea , and that's my target for now ! :D
Semester result is out . i was at all not looking forward to this day ! Too engross with online shop that i actually forgot till Wenjing reminded me which made me feel like dying . For your information , final year project's result is ON the list ! So i didnt have the motivation to stay on in front of my computer to wait for the release , i just went to bed till Yaching called in the morning . And i dont know what to comment about the result . it's just an average B for FYP and a course module while stupid A for a meaningless GEMs . Just lucky that my GPA didnt drop further after last semester's nightmare . i really have to work harder for my ITP in order to reach a miracle 3 for GPA .
Pray hard for me !
Aii Fairies finally has an outing after dinosaur years ! Since PLH kept saying that she wanna fly a kite , and so we went Marina Barrage last Friday during that raining season ! How cool right ? @.@ Before that we went CLP's house to prepare sandwiches and also had our lunch there . Her mum kept feeding us food !!! HAHAHA . Rain has stopped by then but then we were in the West and Marina Barrage is in the Centre . We didnt care much and taxi-ed over cause we brought Mocha (CLP's puppy) along .
★ That's the cute little Mocha , being the spotlight of the day .
As we reached Marina Barrage , we were surrounded by heavy rain . NO SHELTER !!! With my one and one pathetic umbrella , four of us sheltered underneath to Marina Barrage , found empty benches and settled there for picnic till rain stops .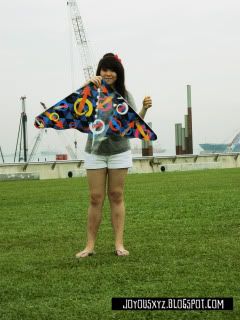 ↑↑ CYYQ looks so happy with her kite , but then both her and PLH did not successfully fly the kite high like it should be . Flew to a certain height and stayed for 1-2 minutes was their limit for the day ! Partially was also because of the unsteady wind . The girls gave up after some time .
★ Illusion ! Illusion ! HAHAHAHAHA
(btw that's PLH)
Slacked , played with Mocha , took photos and ate sandwiches for the rest of the time .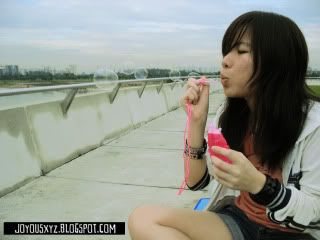 ↑↑ And i somehow got addicted to blowing bubbles that i kept blowing for so long . Nearly brain dead for blowing too long .
Way back was SUPER tiring and troublesome since Marina Barrage is located at a ulu place . No taxi and only a pathetic shuttle bus . Mocha sneaked in ! Arrived at Marina Bay and we almost had trouble getting a taxi . Ulu location , near highway and no taxi stand .
How great ?!
But lucky someone got down a taxi and we managed to hop in ! Journey back was a hell . i hate traffic jam ! it was like taking us forever ... to reach PLH's house .
Dropped by PLH's house for a short while before heading home . Freaky tired and worse still , i had to go Times Printing Factory to work the next day - WHOLE DAY !
You might be wondering about my previous job since i haven't been mentioning it since my last post .
PLH AND I QUITTED !!!
Oh yes , on the third day of our work . Actually something happened which made us very unhappy . The company actually sms-ed to tell us the change of plan just few hours before the new meeting time . Worse of all , the new timing was much earlier than the scheduled time which was planned earlier . But , in the end , we insisted that we cannot make it earlier but the scheduled time . And work load went tougher when we thought we could finally have a break . The company made us do survey job inside HDB hub (all the way at Toa Payoh) ! Though people over there arent like those in Expo walking around but the number of targetted people seems teeny weeny . SO , we ended up saying that we wanna quit on the spot ! And both of us seems like happy birds after that . Freedom !
Back to topic . So that Saturday PLH , ZhanWang and i went to Times Printing Factory to work with working hours of about 12 !!! BUT I SURVIVED !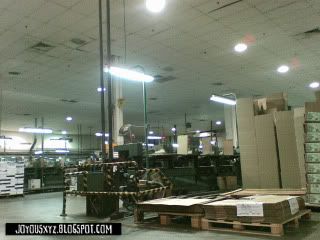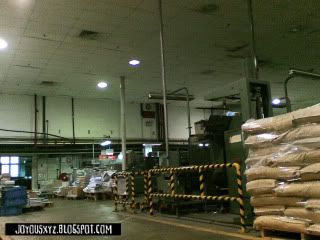 i was like a robot for the whole day since i have to do the same ancient process over and over again . And i was stationed alone while PLH and ZW were situated at the same station . Pathetic lunch was alone too ! ):
The day ended with my hands and fingers aching like as if they were breaking . Not a part of the muscles were in good state ! i even have cuts as "sweet" memories . My hands were stiff the next day .
But comparing with the survey work , i think this is much more efficient . At least i got something to do and not wondering aimlessly looking for miracle !
PLEASE SUPPORT ME BY SHOPPING WITH: