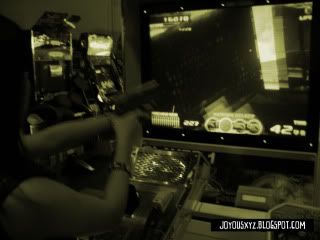 i guess FYP has come to an end unless something crops up again which i so hope that it wont happen . Finally , today i didnt have to drag myself out of bed early ! Pretty shiok ! :D
Dinnered with Chris and few secondary school peeps on Monday's evening . i really haven meet them for 8273512390803 years due to FYP ! We ate Teppanyaki ! WOOOOOOOOOO ~ And PANLIHUA WAS SUPPOSED TO COME but she didnt in the end ! Mafan lady went home to change and ended up unable to come out due to her dad's restriction .
Then we arcaded with the card we hadn't use since peng's 18th birthday !!! Fun and crazy is all i can say ! :D We actually intended to drink at hua's house void deck before going home but then we waited for peng at Outram Park first ! Everyone was already either shutdown/standby mode . Peng's "last words" for her colleague was like 901273197298163287362873527653672145367125312 years !!!
So , in the end , time was too late for hua to come out . Plan (drink at her house's void deck) was cancelled ! Peng , Chris , Sengkee and i went Jurong Point's Mac to slack before going home .
Then on tuesday , i was out with my coursemates - Yaching , Grace , Bavani and Grace . We actually wanted to cycle at East Coast Park but then it was raining over at West side and we afraid it might be raining at ECP too . So we last minute changed plan - went to Town !
ION is really humongous !!!
We got almost lost ! @.@ And we got like 7 hours to waste since I LOVE YOU BETH COOPER preview was at 7.15pm !
Random shopping !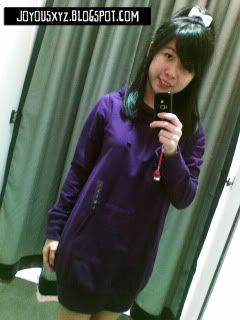 I WANT THIS BUT THE SIZE WAS TOO BIG !!!
The smallest size available was L ! ):
Arcaded again at Cineleisure ! This time was more crazy cause it was more tiring ! HAHAH . But then it was still fun after all ! :D
I LOVE YOU BETH COOPER
movie's storyline wasnt that attracting . At times i felt like sleeping but then at some parts it was really funny ! i was like LMAO !!! i'll not be a spoiler and go on telling about the story . Watch and rate for yourself ! HEHE .
And i finally bought hairdye - Liese Bubble Hair Color (Glossy Brown) !!!
Dyed my hair yesterday !
i'm still trying to get use to my dyed hair ! For your information , this is my first time dying my whole hair !!!
(Poor 2MGP phone camera results in this poor photo quality!)
Anyway , i met up with Huiyun yesterday for dinner .
We were like two zombies walking around Jurong Point !
We were pretty tired . But still , it was a nice meet up to do some catching up rather than meeting up for like once every one year / few years !
i managed to bought a wallet from Option Paradise which i have been eyeing for very long but now abit regretted . Cause after slotting in my cards , the wallet looks so like a clam ! And inside the slots for cards at the side i dont know why they must use something which seems double-sided tape to me - resulting the sides of my cards sticky ! RAHHHHHHH ~
Something random...
just now in the afternoon Grace asked if wanna watch ALIEN'S IN THE ATTIC on Monday cause Mr Faizal has free preview tickets (again!) . WHEEEEEEEEEEE ~ (:
★P.S :
Now i'm still working on the new blogshop . Hopefully i can announce the website soon ! :D