Oh gosh ! Labtop is finally silence but has come to the worse state - THE LABTOP FAN IS NOT WORKING ANYMORE !!! i rather it makes noises . Now the labtop is just
non-stop heating up
and also release a
burning smell
! RAHHHHH ~ Now i've got no choice but to get it repair in no time before the whole labtop dies !
Alright , forget about my labtop ! Problems are never ending .
On Monday , only Yaching , Grace and i went to watch
Aliens in the Attic
preview . The others werent free . The preview was held at The Grand Cathay . The venue was so grand that made me feel so noob ! Concert like theatre which the curtain will drew open when advertisements start showing . And , the screen is concave !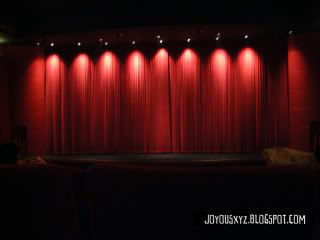 Anyway , Aliens in the Attic isnt that bad compared to I Love You Beth Cooper . it managed to grab hold of my attention and wanting to know what is going to happen next . All i can say is watch Aliens in the Attic and not I Love You Beth Cooper !
And today i went running at Pioneer stadium ! Like so finally !!! But then stamina is really worse now ! Two rounds and i'm almost dead - giddy and felt like vomiting ! @.@ So , when i'm about halfway completed my third round , i'm already walking !!!!!!!! Worse of all , i didnt even walk till the sixth round to complete 2.4km ! Hua was the only one who ran the whole 2.4km ! Wenjing was also dying and didnt complete the last round . Hahaha . So we decided to train slowly . Like few rounds first then increase another round and so on . Hope this method works fast ! XD
090909 - Opening date of
Rabbits Rebel
! WOOOOOOO ~
Do support , Babes and Dudes ! :D