Yesterday i went for a BBQ at Amanda's house to celebrate Shawn's departure to NS this morning . Just before i could start preparing to go Amanda's house early , i was dragged to leave my house much earlier by our dear PAN LI HUA ! She pulled me along to a job interview recommended by You Wei (CSCC senior) . i was somehow quite clueless of what the jobscope was about . And was not at all prepared to get a temporary job just before my attachment . But the next moment , i found myself being interviewed , together with hua , and i got hire !
Luckily the jobscope is not complicated and i dont have to work everyday ! Best of all , each day's working hours is about 4 . But then , it may be tiring 4 hours since i have to get passerby (Expo) / residents (door to door) to do surveys . Hopefully everything goes well and also , i dont make myself tired before my attachment .
And for those who dont know , this is my first temporary job ! XD
By the time the whole interview was over , it was already 5 plus ? On the way , trained back with hua to the West , i managed to meet Peng and Chris who hopped into the train at certain stations .
BBQ was fun . And we were never running out of food to eat . For the first time , satays are far far far more than enough (1 unopened packet after the whole bbq) despite us eating alot . For your information , they were the large size satays - nice but the more you eat you get sick and tiring of biting more satays .
So , the whole time we were chatting as usual .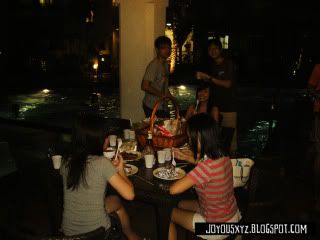 We even made Shawn to do his Thank You speech ! His first Thank You speech sounds stupid . Totally is a 'Thank You' speech since all he mentioned was Thank You plus other languages (but then he anyhow say the language even if it does not mean 'Thank You' .) After some time, he did his second Thank You speech which was much more better but not touching enough to make people tear ! HAHAHA .
After the whole BBQ , we threw away a lot of food . Really a waste but then no choice , too much already ! There's even unopened packets in Amanda's house . And we did more chatting at the pool side after we brought up all the stuffs to Amanda's house .
Now we are all looking forward to 3 weeks later when Shawn books out . Everyone is curious to see if there's any changes in him !