i did a quick solo shopping again today at Town . i got what i initially wanted which is a scarf . And i chose the 2-sided scarf . Pretty cool to play with style . i can simply change between a sweet decent look or a rebellion punk look ! But i dont know if it's worth it , cause it costs me (freaky) $19.90 ! And to hell , i think i made a wrong move since I STILL DONT KNOW HOW TO WEAR A SCARF !!!
i've already separated both into two different scarfs ... Now should be easier to wear them .
Zero degree specs tempted me too ! And i got tied up with 3 colors - black , red and purple . But in the end , i chose simple match black . i'm thinking of getting purple too !
Maybe someday
. Now i'm totally in love with my new specs . SO COOL ! But of course , i'm not going to wear the normal geek way !
i'm gonna wear like this :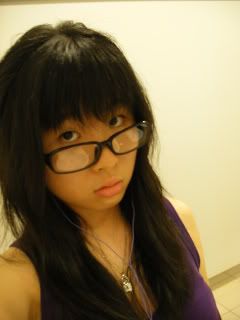 ★ HAHA , I THINK I LOOK ROCK HERE !
yes yes ? no no ?
Or just my imagination?
No way i'll wear the typical wear :
Wierdo geek ! Ewwwwww ~ i dont like !
i think this is also the first time i wear & have specs as in NORMAL specs ! HAHAHA ~ Cool yo ! (Dancing)
i'm now waiting for my freaking bangs to grow ! Real freaking bangs ! Cause my fringe is still supppppppper short ! Not yet reaches my eyes ! i wonder how long do i need to wait ...
Cause i wanna cut this fringe -
Gazette's Ruki ! I LOVE HIS
FRINGE
!!!
And i'm considering back and side of the hair like this photo -
Imagine both hairstyle combine together .
SHOULD BE NICE RIGHT ?
:D