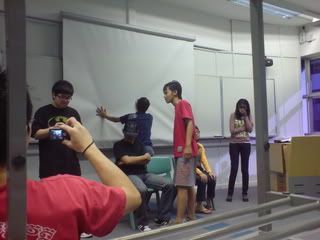 First day of school was more than just fine . IT WAS FUN ! :D But i should have just stayed home for another hour since the first lesson is just a free lesson for us to do projects . Argh ! Regretted not looking at the timetable probably . Wasted an hour in school but nevertheless , the next few hours of lesson was spent with fun and laughter . We had acting lessons ! Doing mirror image with a partner and individual short act . Everyone was kinda serious , so dont have situations like dont dare to act out . Only have dont know what actions to continue the story .
The only sad thing is ...
Jeanine is quiting SP to SMU for production which , to her , is a better offer . And can also stop teaching for production work . Anna Phang taking over her . Sigh !