i have volunteered myself to help out in the Sundown Marathon later from 8pm to Sunday 8am . How cool ? There's freebies too ! Free shirt , free money & free food ? Another event after being MIA for so long . HAHAHS .
OHYA ,

I RECEIVED GREAT NEWS YESTERDAY !

It was from the Lunar Asian Fushion Bar about LOLLIPOP ! There is no minimum age for entry but sadly ,

you must have the entry ticket

. Not for sale , so you have to try to earn for that ticket .

Email to them why you like Lollipop

is their first way and they will pick and send the tickets to the lucky ones . This is the 1st and easiest stage , especially when they have tons of tickets available . After that , chances will be lower . Other than that ,

YES93.3 radio station is also giving out too

but will be more troublesome .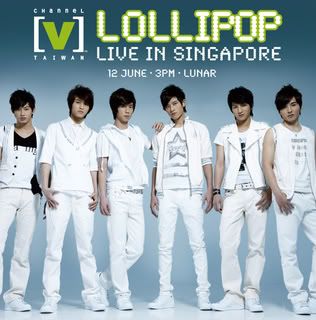 AND AND AND , i finally submitted TWO Assignments yesterday ! Wheeeeeeee ~ Currently 3 more to go . ):
Monday's first lesson , Production in Visual Effects , was held in a computer lab . This time was held in a function room which i forgot what it is called (second level of the school's swimming complex) . And oh damn , on the way there and back was not a smooth trip .
Imagine yourself carrying tons of equipments which weighs quite a lot up and down the stairs and up and down the steep slope .
And that was what we encountered ! School should consider this point , provide us a better solution .
Anyway , we were there to learn lighting or probably having a sudden test for us . Separated into groups by the 1234 method as lecturer wanted us to mix . Then each group was given a task which was to do the lighting for the scene .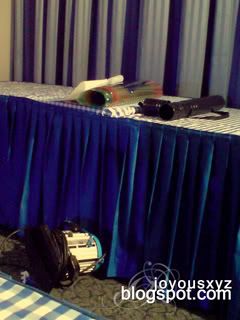 My group was given the scene of the police questioning a criminal . Starting it went well , lecturer tested out our lighting intensity and mentioned not bad . After much meddling , it went worse and worse , from around 8 dropped till around 1 .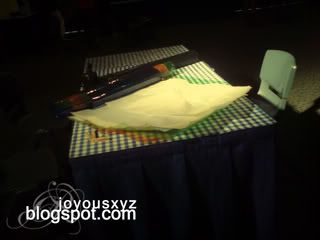 Overall , it was fun . First time setting out the lights and testing them out . But it was really troublesome and hard to get the lighting that you want . But after all , we are still learners . Just a start , and we'll be better the next time round which i guess it will be production time (Assignment) .
i stayed back after school trying to do my Animatics with hua's accompany followed by min inside T2035 . For hours , i had nothing done . Nothing at all ! The whole day i was trying to figure out how the software works . i feel so noob ! Cause i dont even know how to use the software even after hours . ):
hua after that left for her Japanese test . Min skipped the test .
This week was the Graduation Week for 07/08 year 3 students . Well , on Wednesday was for SMIT .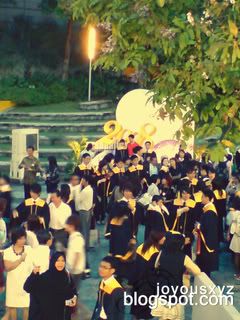 Watching the graduates being so excited with their parents , and also taking photos and more photos , it makes me think of what it will be like when i graduate . The graduation ceremony is no more like in Secondary School . Instead , something like what we normally see in University .
Oh-my-lollipop ! i cant imagine when i graduate ... i dont want my parents to meet my lecturers !
Nooooooooo ~~
Comments for me sure be:
"Everyday sleep in class"
Standard for me ! ):
The whole day in school i was rushing my Animatics ! The moment i stepped into the classroom , i continued my Animatics . No time wasted . And i completed before going for GEMS (other than report and rendering of video) .
Going to GEMS is really a waste of time ! Late for about 15 mins and stayed for 5-10 mins before the lecturer said " That's all for today ! " .
ROARRRRRRR !!!
Going for GEMS is really has become because of the attendance !

After settling everything i have to do in school , i went to Bugis to find Min and Peng at Sunshine Plaza ! But i dont know where is it . ):
Min came to look for me and we started shopping around .
- Earrings i bought at BUGIS STREET .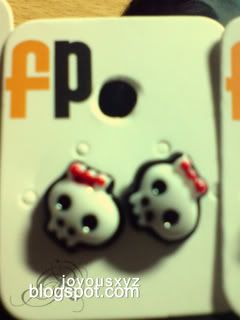 - This is the earring that started me .
Yes , skull again .
Hua joined us later before heading to Peng's shop .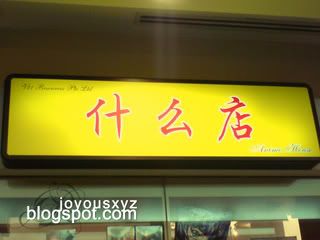 - Saw this shop name nearby Peng's shop .
" 什麽店 " really sounds funny . Anyway , they sell Anime stuffs .
Wanting to get to City Hall from Sunshine Plaza by walking . We ended up walking towards Plaza Singapura which is at Douby Ghaut .
Such a long walk .
Long John Silver for dinner then shopped at Cotton-on .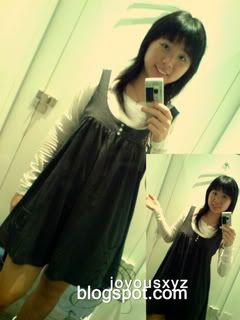 - i'm going to get this dress !
& i want to buy a plain white long sleeve shirt too ! But Hua said the neck there lower a bit will be nicer . ):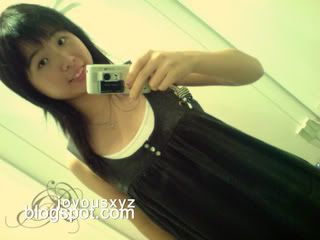 - With white spaghetti strap , it looks not bad . (:
The gray dress is M size . Hopefully can find a S size which will look more fit rather than so loose off . (:
Well well , holidays are finally here ! i shall enjoy myself as well as " enjoying " the assignments .