For the first time of my life , lecturer brought us to our
Visual Effects Studio
. it really disappoints me cause is
REALLY REALLY SUPER DUPER DAMN SMALL
! Whenever lecturer told us how small it is and it has its length rather than the depth , i thought it will still be big as in the length . But after going in today , seriously , the studio is damn small ! Class of about 21 went in and was already
quite packed
(standing around at the sides) . And the "stage" is SUPER SMALL . i guess the most we can do is only interview and maybe simple walking (but the lighting may kill the scene) in the studio .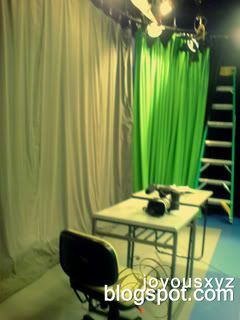 ★ This is the super small "stage" .
The designer is REALLY a maron as what my lecturer said . And i totally agreeeeeeeee !
Weeeeeeeell , nothing can be done . Even building and designing a new studio also needs time . ):
Let's talk about lunch break today .
Oh damn Bavani , Kellyn & Grace ! You girls made me have a hard time drinking my grass jelly drink ! :(
What actually happened was ...
Flashback
to the time when
Bavani wipes her fingers with the waterdroplets on my cup of drink
.
( i dont exactly remember the full details but was something like this . )
me : Hey dont molest my cup

bava : Hahaha , then what about rape ?

kellyn : Drink the thing

Starting from then , i seriously had a hard time drinking .

i was drinking and eyes looking on me . Really a hard time
drinking or even getting the drink down my throat .

kellyn : you still drink, suck somemore . you need condom ? i have papaya
flavour (refering to her trash after eating her papaya)

kellyn (cont'd) : Drink so slow

grace : cos she like to suck slowly
End of Flashback .
WAHHHHHH ~ @.@
i 'm going insane ! :( Nevermind , its not a one-day thing ! XD
Actually we have already spent like a year plus crapping all along . All kinds of craps ! And
i miss 1b/03

♥
! ( Cause Kellyn and i are in 06 , CG Effects , while Bavani and Grace are in 04 , 3D Animation . )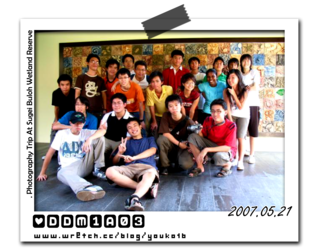 ★ 1a/03 , taken during our first and last photography trip .
The news of Lollipop coming Singapore makes me fill up HIGH-ness till
i 'm back active in the WOO forum
. When i say active , i mean staying inside there as if it 's my whole life ! XD i know , crazy crazy !
Ohya ! &
no more
Oh-My-God ! Now is Oh-My-Lollipop !
HEEEEEEEEEEEES ~!