This year's Christmas eve was spent with the same group of people , my poly cca clique , like in the past 4 years . However , this year we broke our usual routine of counting down at Orchard Road then catch a midnight movie . Honestly , though we had to spend for the location and food , it was so much fun ! So much better than being squashed in the crowd and trying to avoid being sprayed at with the foam spray along Orchard Road ! ( >∀<)
Day before Christmas eve , I headed over to Wenjing's place to bake cookies for the party . It was actually my first time baking cookies and it was a fun experience ! I'm now tempted to bake myself at home ... but probably after my upcoming semester ends ! (*´艸`*) We baked a lot for the night as we were afraid that we didn't have enough to last , but at the same time , also afraid they didn't like it and would end up with a lot left . Luckily our fellow friends like it , so there are not many left at my place now . HAHAHAHA ~ . My mum said it is quite soft , so I guess she likes it too . HAHAHA ~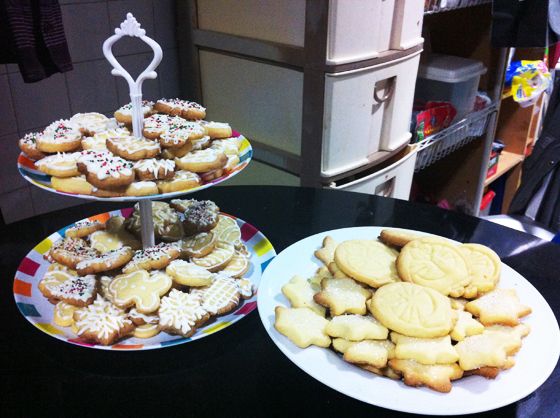 ⋙ Cookies that Wenjing and I baked ! (♡′艸`)
So on this Christmas eve , we spent it at Downtown East Chalet (A1129) with BBQ session . Just one night ! We were lucky to book a place as Christmas eve is a peak period .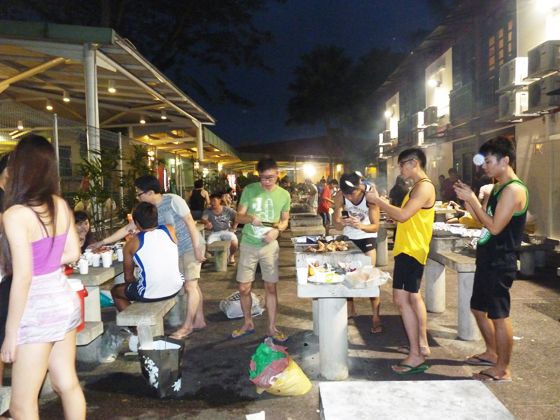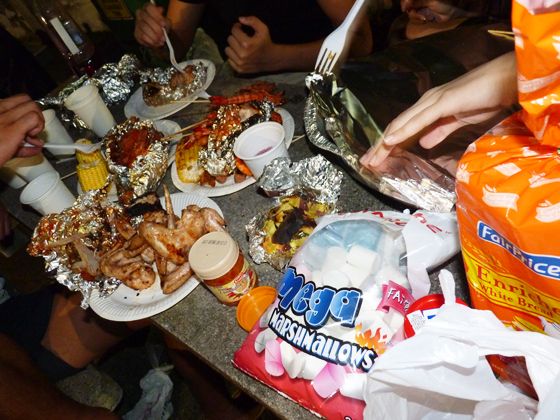 Later in the night , when everyone was done with BBQ session , we settled down in the room doing some self-entertainment before time strikes 12am !
⋙ Group photo taken by Chongyan .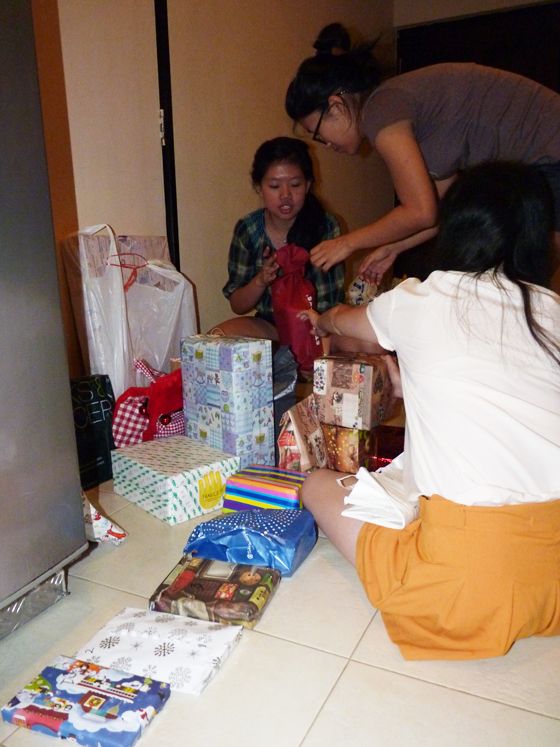 ⋙ Numbering the gifts to prepare for lucky dip .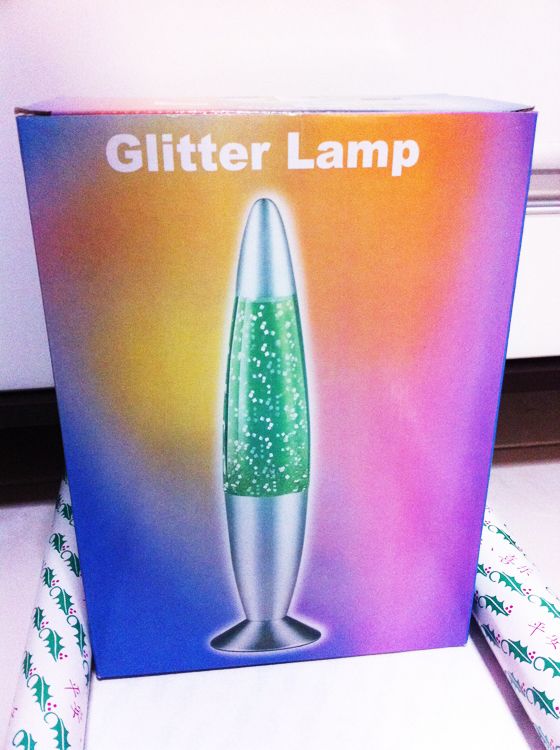 ⋙ This is what I bought for the exchange - glitter lamp , also known as lava lamp . It is filled with star glitters and is neon green when it glows . Really beautiful when it glows ! (✧◡✧) And I was lucky to get it for nearly 50% off , so it was only slightly more than SGD20 .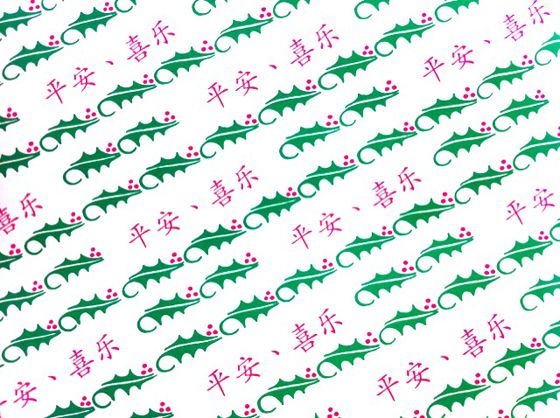 ⋙ My retro wrapper ! I think I had this like since primary school days but no one used it . Now there's one more sheet left .
When time strikes 12am , IT WAS CHRISTMAS TIME ! We started our luck dip ! And everyone was feeling freaking intense as everyone was hoping NOT to get lucky 7 ! I'll reveal the answer few photos later . Before that , we already got an idea that it was an useless gift . But because the wrapper of the gift was slightly ripped off , we got to find out what it was ! REALLY A CRAPPY GIFT !!!
⋙ Lucky me ! Got an 8 !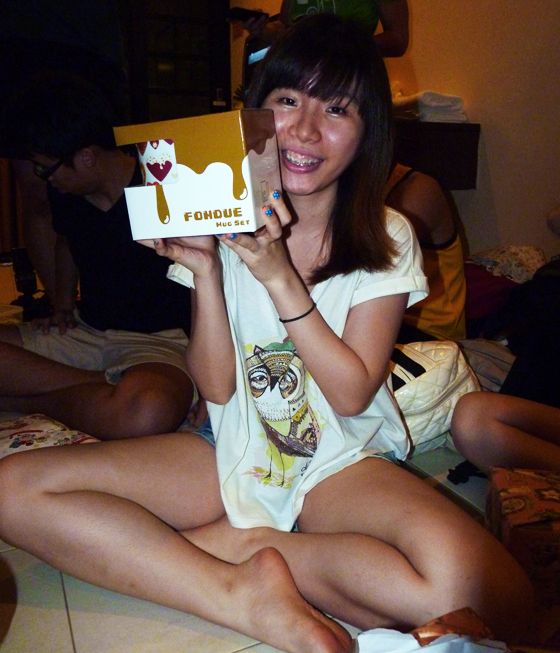 ⋙ It is a fondue mug set from Weimin ! Not a bad gift for me since I love melted chocolate and cheese too ! Yummyyyyy ~!
⋙ Surprisingly , another useless gift but it is a 'serve him right' for the receiver , Nathan ! HAHAHAHA ~ (Answer in next photo) As the budget for gift exchange was SGD20 , Genli went to buy 8 items from Daiso (everything SGD2) + envelope from Daiso + wrapper to meet the budget !
⋙ Unlucky Wenjing got the "lucky 7" and this is the reason why everyone hoping and even praying hard not to get ! It's a gift Nathan bought ! Totally no idea what got into him to buy such gift since it is an UNISEX GIFT EXCHANGE SESSION AND WE ARE ALL FREAKING 22 YEARS OLD ALREADY !!!!!! Fake Barbie somemore ! #fail I think it would be more funny situation for the rest of us if a guy got it .
⋙ Xmas cake to celebrate everyone's birthday at one go since we didn't really celebrate everyone's birthday this year . Kerwin's idea !
Drinking game next ! And 2 rounds were enough to "kill" us especially the guys ! Few already got drunk during the 2nd round .
This is what we played with poker cards :
Drink of Fire / Circle of Death / King's Cup Card Legend:
A - Player Drink
2 - Points Someone to Drink
3 - Find a Date (Someone to drink with you, then each time either you or your date has to drink , the other partner needs to drink too.)
4 - Floor (points)
5 - Girls Drink
6 - Guys Drink
7 - 7-up game (Mention 'up' when the number is a multiple of 7 or with 7 in the number.)
8 - Rhymes (Start a word and the rest have to say words that rythme with it.)
9 - Category (Think of a category to think of while)
10 - Waterfall (Start drinking then the next person follows and one by one follow their previous person , so when starter stops , one by one stops)
J - Set a Rule (Setting a new rule for the game .)
Q - Safe Card (Keep it to get yourself out of a situation eg. drinking the King's cup.)
K - King's Card < Fill any amount of alcohol into the cup > till the fourth king is out, player drinks everything.
So the guys literally got drunk due to the 'J' card (set a rule) !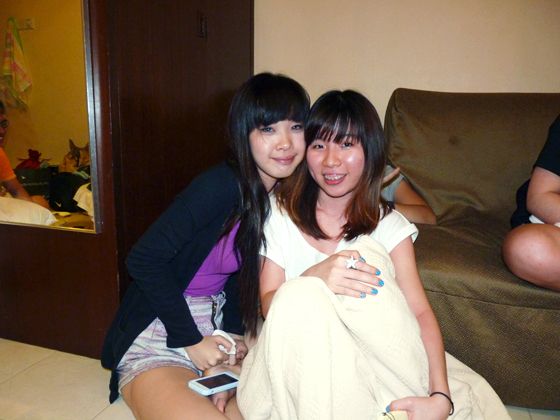 ⋙ Okay la ! I still looked normal and awake after the whole session !
BUT , I vomited a little consecutively twice while walking around Downtown East after that . Before that , we (me and other survivors hahaha) even saw a girl on the ground "merlion" in a pitiful state , unconsciously . We didn't want to see but apparently she faced towards us while we were walking down the lane . And what's worse is , it was her male friends who tried to carry her back to their chalet .
Honestly , girls should have some self-control when drinking outside ! Any bad event may happen when you are unconscious . If you are lucky , your friends help you . If not , good luck to you ! Unless you think you are in a safe place , then I think it's fine . Example , family event , at friend's place with female friends around , etc .
⋙ Souvenir Seto and Nathan gave each of us ! Thanks guys ! (。•ᴗ•。)
And lastly ,
⋙ My snowy nails for Christmas ! ♡ *first nail art done since Chinese New Year*