For the first time I participated in a food tasting event after receiving a surprised email . I'm glad I was being invited as I always enjoy Japanese food and matcha latte is also one of my favorite drinks ! On the day itself (21 December) was their opening day too ! And because I felt awkward to be there alone , I tagged Wenjing along . It was a fun and interesting experience exchanging talks with people we never met which also made us feel in place . They also gave us each a packet of Curry Kakimochi (カレーかきもち) from Japan which I haven't tried .
⋙ My table label that missed a 'y' in my name and the menu of the day which are their signature dishes and drinks .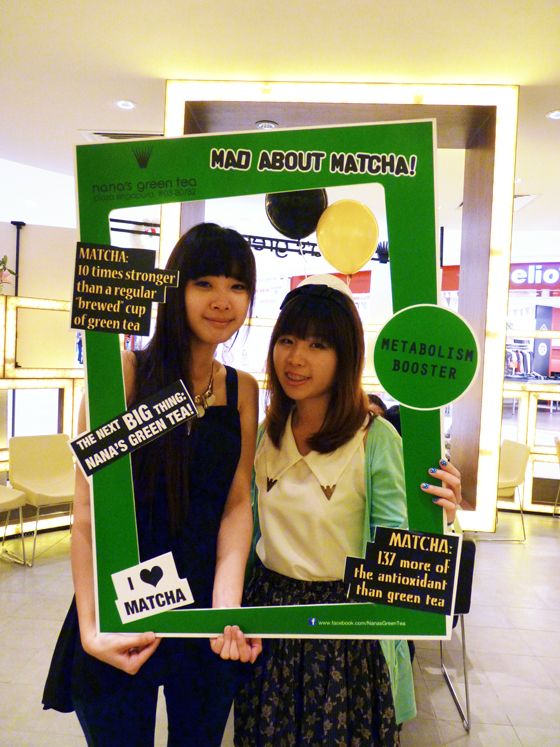 Because we arrived earlier than the scheduled time , Chef Haru introduced to us about different kinds of green tea which are imported from Kyoto .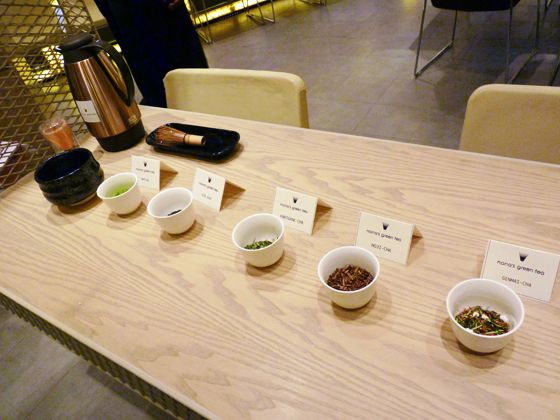 ⋙ Powdered green tea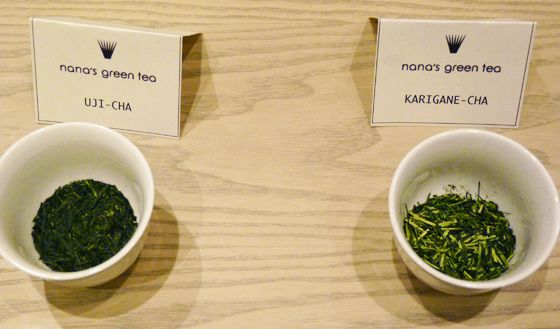 ⋙ Uji-cha , also known as
Sencha
, refers to dried tea leaves ; Karigane-cha , also known as
Kukicha
, refers to stems, stalks, and twigs .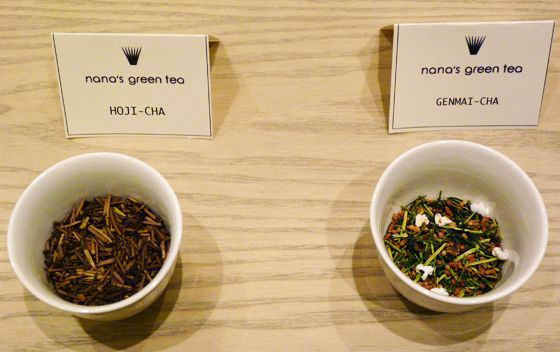 ⋙
Hoji-cha
refers to roasted tea ;
Genmai-cha
refers to brown rice tea .
⋙ Matcha Latte (cold) !
During the session , I've also learnt that Nana's Green Tea has expanded from a cafe to a restaurant . Subsequently , they took away crepes and added main dishes instead !
Nooooooo~~~~!!! That means no more
egg and mushroom crepe
for me !!!! Though I dislike the burnt taste , I love the combination of the fillings !!!! Egg , Japanese mushroom , potatoes and cheese !!!! And these combination rarely comes together as a set ! (。•́︿•̀。)
⋙ The new menu
I tried to snap the pages but kept failing due to the laminated high gsm papers that wouldn't open wide for me and indoor/yellowish lighting . So here are the blurry shots of the food and appetizers they have :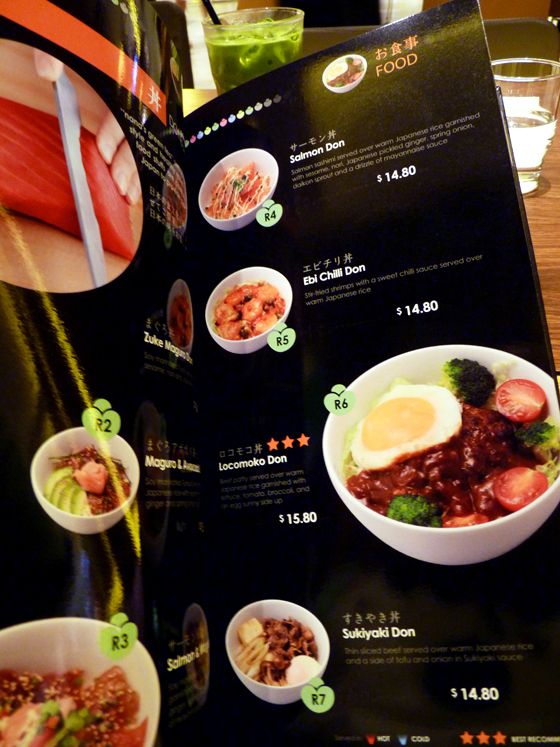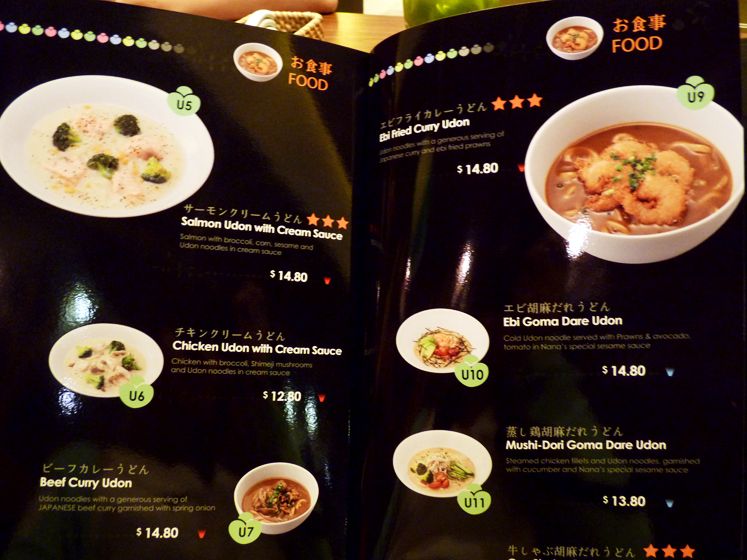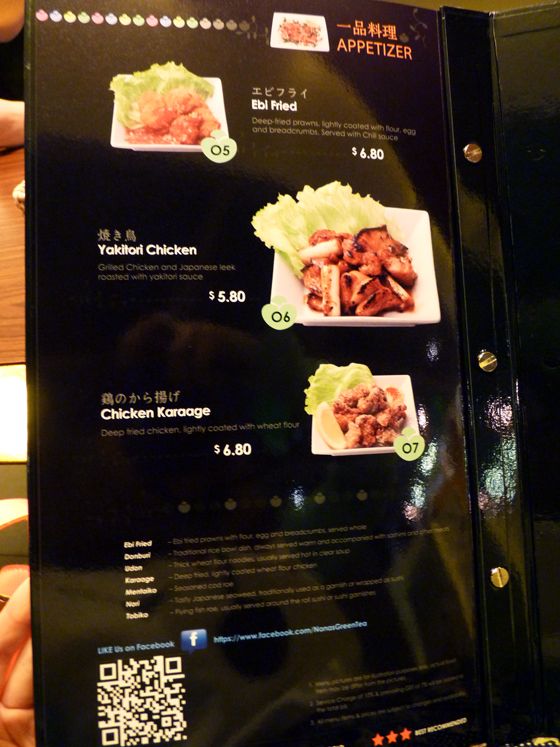 When the rest of their guests arrived , Chef Haru presented the introduction of the green teas again .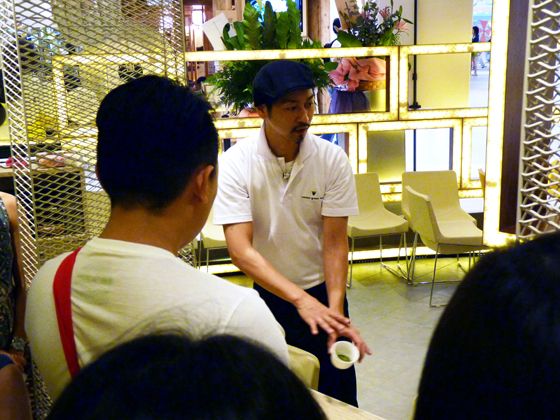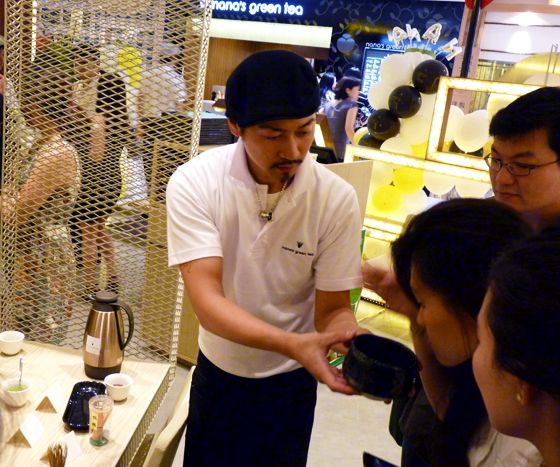 Food started serving after that . Wenjing and I actually got surprised when the dishes were first served ! Cause they were in such big portions ! Totally too much for the two of us to finish ! But later on , we were told that they were just there for us to see the actual serving portions and sampling size would be given to us to try . So in the end , our table is just flooded with food ! Even though 3 dishes were served in smaller portion (in small bowls but still quite a lot in a bowl to think that we had 3 bowls in total) , we could not finish them . What a waste of food ! (๑°⌓°๑)
(Photos of dishes are of actual serving size)
⋙ Locomoko Don : $15.80
This is actually beef patty dressed in tomato sauce . As I'm not a fan of tomato sauce and beef patty , this dish isn't really to my liking .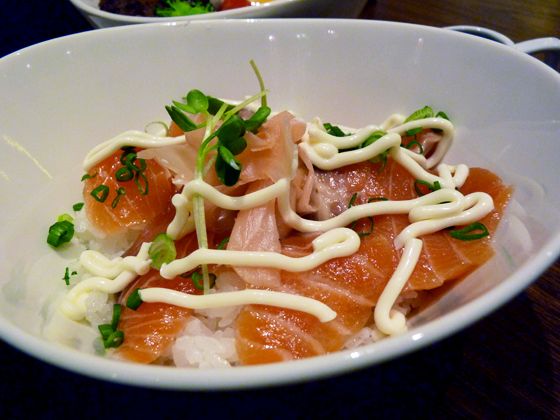 ⋙ Salmon Don : $14.80
Needless to say , this is my favorite ! I was also happy that the salmon was each sliced to a generous thickness ! Maybe about 0.5cm thick ? Damn shiok ! But it would be better if the whole bowl of rice is covered with the salmon sliced like
the one I had in Bangkok Platinum Fashion Mall
! Hahahaha ~!
⋙ Mushi - Dori Goma Dare Udon : $13.80
Not sure is the soup or the way it was cooked or something wrong with my taste bud (hahahaha) , I couldn't really taste the soup while eating the udon itself . And I wish the udon is softer to chew . (๑•́ ₃ •̀๑) Anyhow , I'm not a fan of udon and I don't really eat udon (what I usually have is the common kake udon) so i can't really make any comparison . I'm more of a ramen person ! (*≧∀≦*)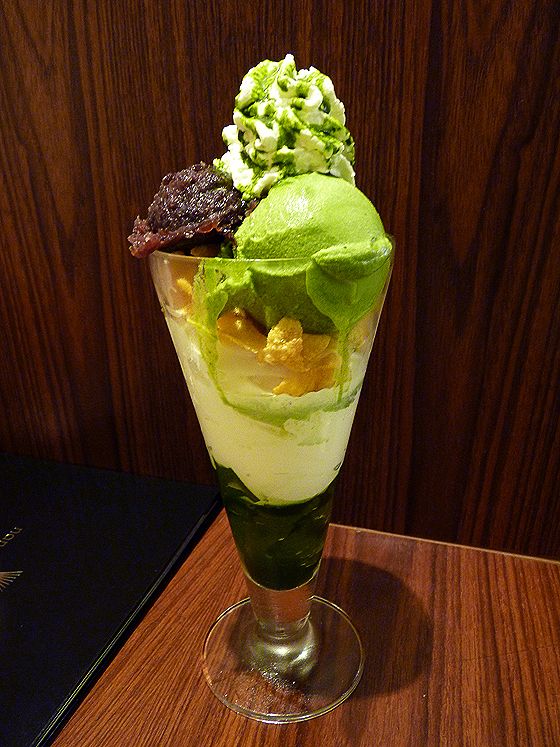 ⋙ Matcha Shiratama Parfait : $11.80
YEAAAA I GOT TO EAT THE WHOLE CUP !!! HAHAHAHA ! It's a good thing for me cause I usually prefer desserts to main dish ! I can even just have desserts instead of main dish for a meal as they seem more tempting to me ! I suppose you can say I have a sweet tooth ! (*´艸`*)
This dessert basically is layered with whip cream , shiratama dango (sweet glutinous rice balls) , matcha ice-cream , azuki bean paste , cornflakes , soft serve vanilla ice-cream (which its sweetness literally covers up all the matcha taste (¬_¬)) and green tea jelly .
Overall , I think I will still head down but for a drink and also maybe trying out of other dishes which match my likings or seem tempting to me . Actually I'm also thinking of trying their azuki beans series . Look nice too ! (๑´ڡ`๑) Lastly , I hope they will bring back the crepes ! hehehehe .
Oh ! And now I also found another reason to drink matcha , as according to the fact sheet provided by Nana's Green Tea !
Does matcha have caffeine?

Yes it does but caffeine in matcha is a completely different proposition to caffeine in coffee. Caffeine in coffee impacts on the adrenal glands and causes spikes in adrenaline glucose and insulin levels, causing jitters, nervousness sleeplessness and hunger pangs. Caffeine in matcha forms bonds with numerous nutrients so that it enters the bloodstream in a time-release fashion, leading to a steady level energy over 3-6 hours, rather than a spike and crash within 1 hour. Furthermore, matcha's unique make-up means that the caffeine leaves your adrenal glands untouched while regulating insulin and glucose levels making it ideal for diabetics, and combating hunger pangs.


How much can I consume in a day?

If you are following a healthy diet and are generally healthy and energetic, once a day should be enough from a health maintenance perspective. If you are using matcha for energy boosting or craving-killing, twice a day may be beneficial in certain cases, though you will need to judge your body's own reaction. Some of our customers report a full day's effects from one cup in the morning. If you wish to go on a detox, weight loss regime, or are lacking in energy twice a day is recommended.
When the new semester starts , I shall try drinking matcha (to reduce the amount of coffee and redbull intake) and I hope it will really keep me awake throughout the sleepless nights !
♡ Information to know ♡
Venue:
Plaza Singapura, 68 Orchard Road #03-80/82 Singapore 238839
(Take the escalator up from Jrunway at level 1 , turn left and you will see the outlet .)
Opening hours:
Monday-Sunday: 1100-2200, last order: 2130
Additional Information:
Service charge of 10% and prevailing GST of 7% will be added to the total bill .
(As mentioned it is now a restaurant instead of a cafe , it runs differently compared to its previous outlet in Jcube.)
Contact details:
Tel: 6684 4312
Fax: 6884 6305
Email: nanasgreentea@singnet.com.sg