Busyness just couldn't shoo off my life , it hooked on to me which reason why i haven't been blogging for such a long time ! Actually there's also nothing much special about my life , just bouncing myself between school and home . fml !
Anyhow , Majolica Majorca's Chapter 30 is out !!!! Like finally !!!! Before its release in Singapore , news has already break out . & since then , i kept visiting Watson whenever i have the time to check if it's out ! Checking high & low , left & right ... DON'T HAVE ! (insert a scene me walking away sadly)
But on Monday when i went to check , OMGGG ! IT'S KAWAII-LY SITTING ON SHELVES WAITING FOR ME !!! (♡ɜ♡)ヾchu〜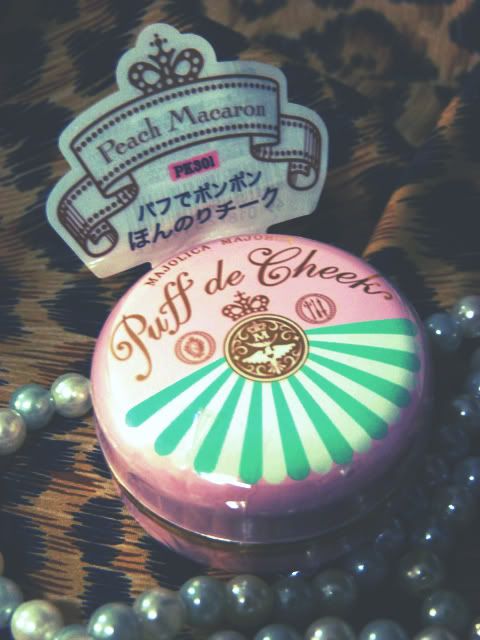 ♡ ❝ Peach macaron blush puff !
可愛いですね?
❞
Wanted to get the limited editions (Strawberry & Vanilla) but decided not . Packaging for Strawberry too pinkish for me . Though i didnt get to meet Miss Vanilla , but i suppose i won't get it since it looks like some skin color shade ?
♡ ❝ Super kawaii puff ! MJ really knows what a gal wants ! ❞
♡ ❝ Meet my MJ family ! hehehe ! ♡艸♡ (Missing my automatic liner cause i forgot to add it in ! >×<) ❞
If you notice , my purple mascara is still in casing ! i didnt have the chance to wear it out cause i havent the time to try it ! soooooo , i still dont know what's the result will be and am so curious !!!
Seriously , like my title of the post , i hate Majolica Majorca !!! Why you have loads of kawaii makeups that makes me wanna own all ?!!!!!! >Д< Especially the latest Chapter 30 , every single thing is so awfully cute that i will buy all if i'm rich ! Sadly , i'm not ! So they are all making me 心癢癢 (heart itchy) ! i hate this feeling ! ´ ꒢` But still it doesnt stop me from loving and admiring every release from MJ ! Every time when there's limited edition products , i will 100% go , " Urgh , should i get it ? if never get later regret how ? " /$ notes flying
& it's 5am already !!! ʘ Д ʘヾ
Oyasumi !
♡
P/S: Why doesn't MJ release falsies ? hmm ...