i dont really feel i'm having a holiday . i'm all day in school since Monday and stayed for hours ! FYP is getting into a madness state cause we dont have much time to risk . Now is already
JUNE
!!!
Ha , but i still spent money like hell . (Faint) i just couldnt control my wallet ! i kept seeing things that i want and have been looking for ! i really hate it when everything comes at one go .
Yesterday i gotten myself a studded belt from Queensway Shopping Centre . Cause i chose to buy the one with real studs , it costs me $29.90 ! The whole belt weighs quite alot too . @.@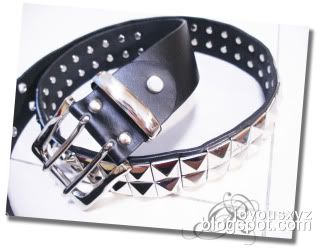 And today , i bought a heels which i have been eyeing since weeks ago . And have been hesitating to buy or not . Finally today i decided to buy but still hesitate when i look at the shoes again . i couldnt decide which color to choose ! In the end , i messaged Chris for opinions of the colors . She must be shocked lah . Cause i just asked her without mentioning anything about it before . LOL . So yea , finally gotten the
silver
pair - also $29.90 !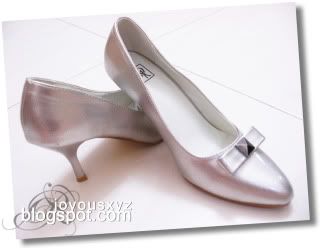 Wheee-wooo ~ New heels ! With a stud on each shoe . i think i'm already flooding myself with studs and soon be overflooded ! And and and ,
i wanna buy more heels now
, rather than apparels ! More choices of shoes is good for matching different style of dressing . HEHES . i think soon i will have a collection of heels (
not flats cause heels prettier!
) . XD
And broke too ! ):