These days were happenings . Pretty cool happenings ! :D
Wednesday to Friday was CCA drive . And i went down on Thurday . CSCC got such a bad spot . it's simply just a small booth beside the DJ (?) booth . Bad noise pollution since the volume was too high to hear one another's voice and we need to raise our voices . Flipping through the forms , one of them caught my eye . Familiar name and the NRIC starts with 90 ! But not much information was written , so i cannot figure out if one of my P1/2 classmate . And i also dont know if we recognise each other (the last time i saw her was Sec 1 for Keyboard lesson in Pasir Ris Crest Sec) . But there's such possibility since Singapore is SO SMALL ! XD
On the same day , i went to meet my girls after my FYP discussion . Peng and i went over Causeway Point to meet Chris , and since we hadn't have our lunch , we went to eat Pizza Hut which was tempting . The price too !
We took only about a minute to order
cause promotion ends at 5pm and we were just few minutes to 5pm ! Hahahah ~ Mad !
After that , we spent our night at Bugis with Hua . We wanted to catch a movie but the timing at the new Cinema was late and by the time the movie ends will be super late ! Arcaded , and dinner-ed since Hua kept saying that she's hungry . i only ordered a drink while the rest of them order a dish . We spent a madful time over there . Or probably i should say Hua and Peng were the ones who were mad ! XD
Ohya !
CHRIS , SEND ME PHOTOSSSSSS
!
Friday was such a sleepy day for me ! i simply dont know why . All i know is that
I WANNA SLEEP
! Anyway , that morning i forced myself to reach school early since we had to arrive school before 8.45am to take a bus over to
Fusionopolis
.
We visited
MDA (Media Development Authority)
for a talk in their screening theatre/room . Well , all i can say it's such a cosy place ! So nice to sleep on that i kept struggling to wake up ! (Opps!)
One of the staffs there gave us a talk about Classification .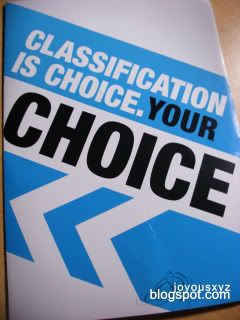 Pretty interesting but short clips were disgusting ! Cause short clips were a certain part of movies . There's Klass , The Passion of the Christ and a funny R21 Tamil movie (sounds insulting the religion that's why R21) . OHMYLOLLIPOP ! That part they show of Klass is FUCKING DISGUSTING ! Felt like vomiting lah ! Ewwwwwwwwwwwwwwwwwwww to the core ! it's like watching pornography ! @.@
After the break , we were allowed to watch a NC16 movie (i forgot the title) and to try to rate it ourselves . Oh well , as i mentioned earlier i was pretty sleepy on Friday , hence i kept stuggling to stay awake but i just couldnt . i slept at parts of the movie , mostly the front part ! (Oppsy! Shhh~)
Before we left was survey time ! High-tech sia !
WE USED THIS !
↓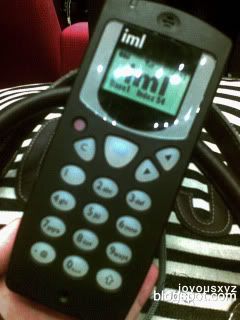 Use it like how we sms .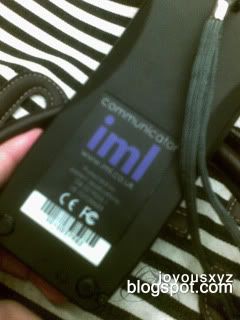 Friday was basically spent sleeping . i dont know why but i just feel damn sleeply !
P/S :
Just now i came across a YES 933.3 DJ's blog and saw a post of regarding
Fahreheit visiting DSA
. There was a video and i went to watch . WOOOOO ~ i spotted few who went to Inspiration Camp last year ! There's more that can be spotted in other videos . (:
CS peeps and others who participated in the camp , if you miss your buddy/any campers , you can go view the videos ! :D
More videos :
http://www.podcast.sg/yes933/vidcast/video/0903310000visit1.mp4
* There's about 25 short videos . See the
visit1
in the link ? Change the 1 to any number up to 25(?) to see the videos .
(Later in the day/night i'll blog about my Saturday with Huiyun ! :D)