On Monday before i went to meet the girls , i registered my GEMs for this coming semester and i managed to get in Online Entrepreneurship . Anyhow , i noticed the slots are taken up sloooooow or probably not many taking Business this time . ):
At about 4plus , IMM with Peng and Chris . We ate our Lunch+Dinner and wanted to visit Daiso to get stuffs for our Bento . But to our surprise ,
Daiso is CLOSED
! Daiso is having Dinner and Dance ! @.@ So we ended up going Liang Court to get our food and suffs , and that is also when Hua joined us .
That night , we headed off to Chris house for a sleepover ! Hmm , seems to be quite sometime since we last sleptover at Chris house .
Peng lost her shades , so she wanted to try out Chris . i joined in and started camwhore with her shades . Hehehehehs .
Wanted to watch a movie but we couldn't decide which to watch .
And we ended up with Jurassic Park but after a while we gave up watching . Too much of other temptations . Like sleeping for hua , and the rest of us in Chris room chatting
from Facebook to Makeups
.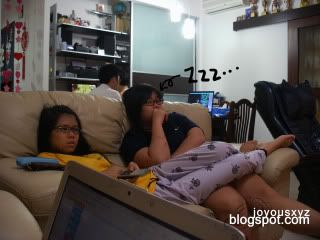 And i dont know why we went to the Kitchen again . But it was then i craving for food ! i ate the
last packet
of
麻油 Maggie Mee
.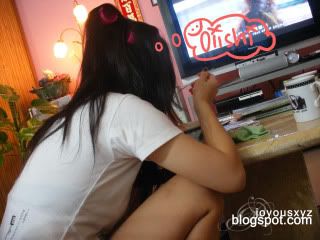 Peng joined in . She ate the Korean Maggie Mee .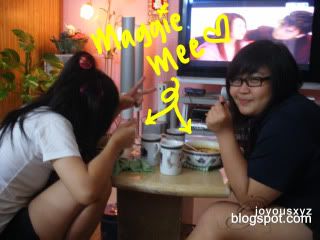 When we went back to room again , i was pretty tired and laid down closing my eyes . Chris and Peng kept making noises . But i still managed to sleep awhile but at around 7.30am (?) that started calling me and Hua up with
many many
different funny noises or with their laughters .
I finally woke up and started doing our Bento ! Hua still on the bed sleeping like a <(-(oo)-)> ! And from here onwards there will be about 45 photos ! :D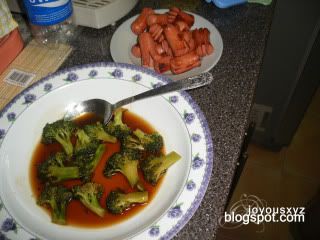 ♥~ "Decorations" for our Bento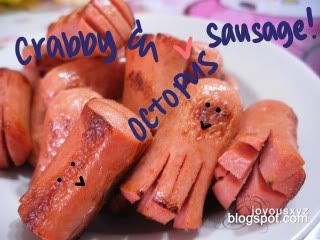 ♥~ Kawaii ne ?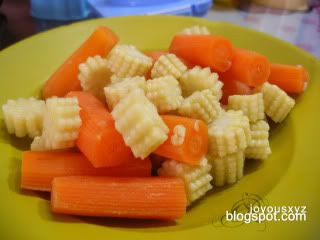 ♥~ This is call H-E-A-L-T-H-Y !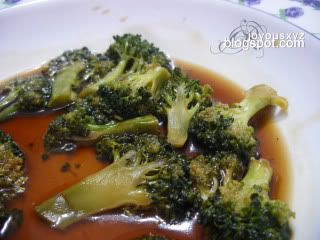 ♥~ Treeeeees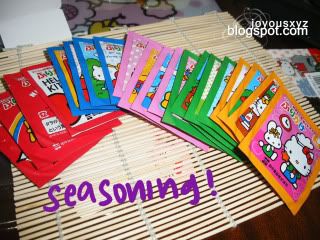 ♥~ i'm thinking of going to buy 1 packet for myself too ! XD
And after working hard to do the Sanrio heads and decorating with other food as decorations , i'm proudly to present my
♥ FIRST BENTO
: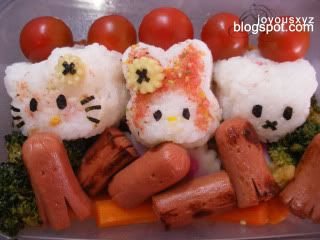 ♥~ Not bad right ?
♥~ i think the bear is cute ! ♥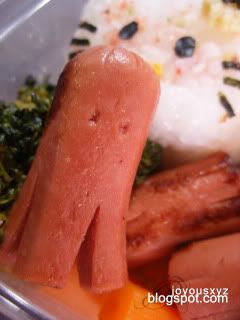 ♥~ Say hello to Mr Octoppy !
♥~ WOOOHOOOOO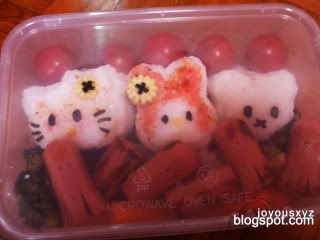 ♥~ Alright , packed and ready to bring to Zoo !
& is also a budget Beto Box ! LOL ~
Chris' Mum was nice to drive us over to Zoo . And we saved all kinds of trouble getting there . Thanks Aunty ! :D
And so ,
time for zoo !
(Photos time!)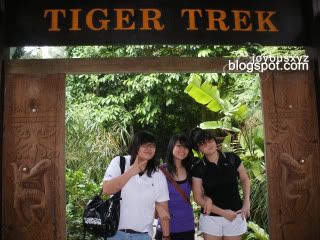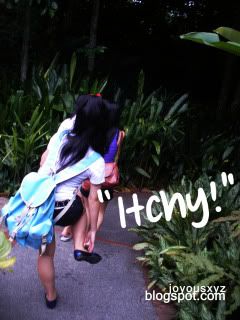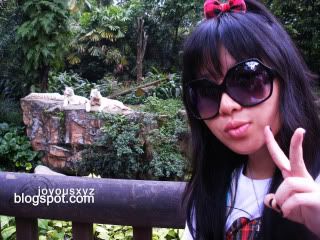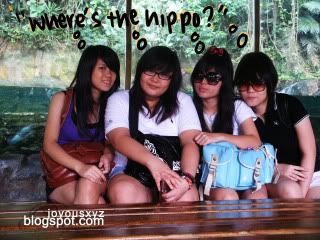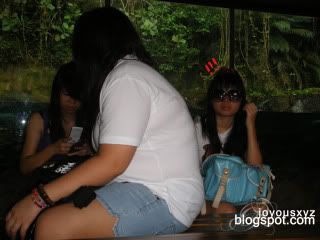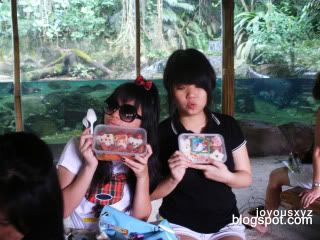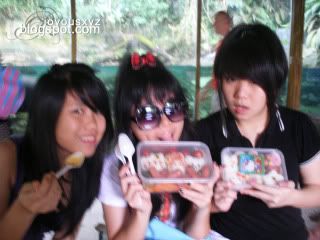 ♥~ i love and miss my
FIRST
Bento !
Now tempted to do more ! :D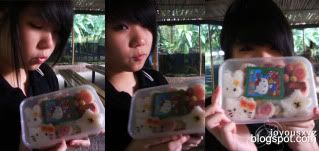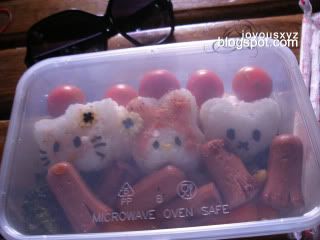 ♥~ Oh , and did i mention only Chris and I doing/eating Bento ?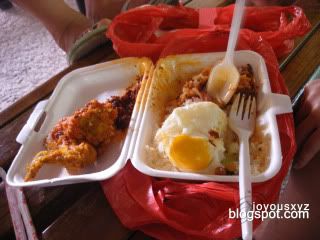 ♥~ Hua and Peng having their Economy Nasi Lemak .
♥~ While eating , there was a group of K1s running about .
Super cute lah ! All so small size ~ :D
♥~ Aiyo , PLH ~~~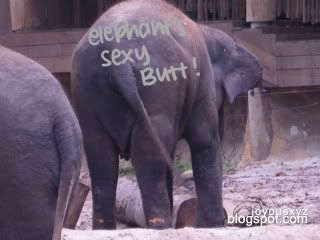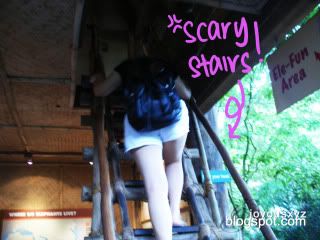 ♥~ Walaos the steps damn steep lah !
And worse of all ,
i'm afraid of heights
!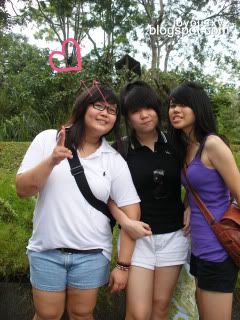 ♥~ Inside the heart-shaped is a
MONKEY
.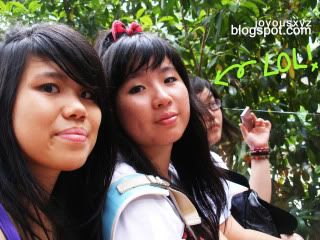 ♥~ Chris sacrificed herself for this photo ! Awwww ♥
♥~ Chris say Orang Utan is my future children ! = . =
Cause
Orang U
tan
! But next time my surname will be same as my husband lei ~
♥~ OMG , what if it shitted ?!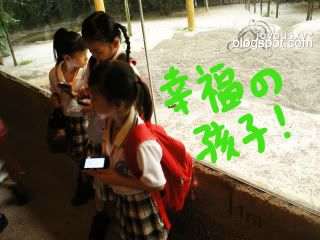 ♥~
PDA IPHONE (According to Chris) FOR EACH PRIMARY SCHOOL KIDS !!!
No need to write on worksheets !!! OMG !!!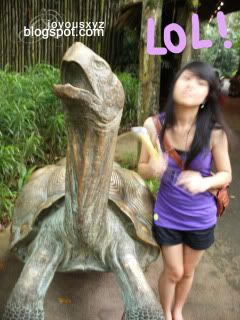 ♥~ Feed the goats ! And we spent SGD$8 on it !
$2 per container of food ~
♥~ i blocked the Lion ! "Sorry Lion !"
After hours of walking , we finally saw the place where we started !
WOOOOOOOOOHOOOOOO !
No more mosquito bites !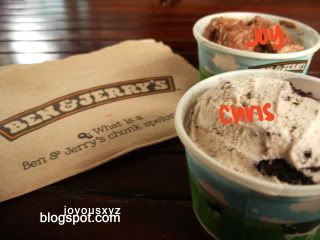 ♥~ Yummylicious Ice-cream ! :D
♥~ And and and , we paid
ZERO
cents for the entrance !
All thanks to this card & Chris' Dad ! :D
Bus-ed to Choa Chu Kang , MRT-ed to Woodlands and then Taxi-ed to Chris' house . It was then i started to get a bad flu ! Chris too ! ):
Bathed and dinner at Chris' before home sweet home ! :D
P/S:
Finally completed this post ! (sweat)
P/P/S:
I miss my cute bento ! XD