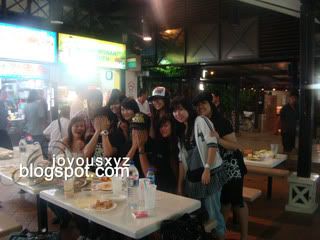 Hurried down to airport after listening all the show-off-work by Jennifer . Flight was delayed and i felt relieved . If Elmo and xiao (囂張) were to arrive on time , i guess i wouldnt be able to reach on time . And they might even have left even before i reached Terminal 2 . i actually ran from the time i alighted . @.@ Waited after that till around 1.30pm (?) , both appeared . They actually came out LATE ! Elmo took quite sometime before he found his luggage .
Elmo came out and everyone rushed towards him . Elmo walked out of the airport . And dont know why ,Yihlin, Yvonne and me went behind the window glass instead . Maybe cause everyone was crowding around him . But after sometime of trying-to-capture-him behind the window glass , we gave up and went out instead . Mini photo-taking session and autograph session . At that time , we still didnt know xiao but me and Yihlin did ask him if we could take a photo with him . He rejected ! (Actually he refused to take photo with anyone of us till the last day ! Argh ~)
After quite sometime , Elmo made the "session" an end to leave for his hotel check-in . Both took a cab and left . And it was then Yihlin , Yvonne and me made a last minute decision by taking cab down to his hotel . Arrived at Hotel Royal @ Queens and saw both of them are still doing their check in . We waited outside even when they went up to their hotel till they came out of hotel for lunch . It was then we started to have the chance to have conversation with them . But mainly is "where are you going ?" or "what you want to eat ?" . In the end , it was xiao who leaded the way since he came Singapore for like 5 times ?! And the whole journal was like one big group of girls (more than 10) walking with two guys on the streets . Quite crowded especially when majority wants to talk to Elmo .
Alright , i forgot what they ate ! But Yihlin , Yvonne and me didnt eat with them . Helped them book a table and went off to 7-Eleven to get some bites . Shopping at Bugis junction level 1 and Bugis street after lunch . We three just stood outside the shop and waited for them . Actually the whole time we were like on our own as there were already many people around them . At times , we became their tour guide . @.@
Back to hotel after that since they were tired after the long flight and wanted to rest . We made an appointment with Elmo at 6.30pm to Wu Dance Studio which is Yvonne's dance studio . He even promised that he would be on time ! Freak ~ That pig was still sleeping for like more than 30 minutes later when we got the staff to help us to call up to his room . Another waiting time before he came down ~~~~~ i gave him a tired/sian face when he walked out of the hotel door . ( i was sitting at the side of the door) .
We stayed awhile at Wu Dance Studio . Elmo and xiao browsed through the leaflets and noticeboard . There was popping lesson then . Elmo watched awhile . We thought they would sit in for the locking lesson but they didnt . And they cancelled the trip to O School and decided to go for dinner instead . ( It was like the 3rd day then i found out Elmo know people from O School . In the end , he and xiao visited O School on the 3rd day .)
MRT-ed to Newton for dinner . ( The trip was funny ! Xiao was simply like a kid when he is actually one-week-plus-to-26 . ) Again , the three of us didnt join the both of them and other fans . We didnt want to squeeze with them . So we ate our dinner ourselves before moving over to their table where few fans left . We were shocked to see a whole table of dishes . The worse thing was the fried rice ! ONE WHOLE BIG PLATE OF FRIED RICE WAS STILL LEFT ! And Elmo still said big plate is better ! But is like freaking waste money and food !
It was then we started to know Joanne and Yuqing . We randomly chatted while the rest were trying to finish up the food . Three of us went home after that . We didnt mrt back to hotel with the rest .
That night i was freaking tired since i didnt sleep the previous night plus all the super late bedtime i have . i ended up falling asleep without setting alarm for Saturday . @.@