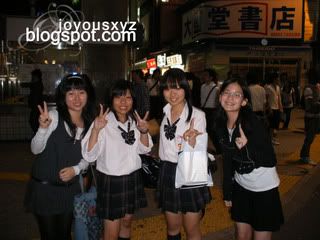 i'm back to my Singapore life . Japan is such a nice place to be in . i really really enjoy my stay there . i dont really feel that i'm in a total new city . i adapted the place fast . :D
i managed to visit many places though the stay wasnt long enough for me to do long hours of shopping . But it was enough for me to experience and explore some parts of the places . My shopping venues will be Odaiba , Shibuya , Asakusa , Akihabara , Shinjuku , harajuku and Disneyland . Just for only 6 days in Tokyo ! it isnt a surprise for me to get nag by my mum when she saw what i bought from Japan . i bought lots of little stuffs like stitch hairband , hairclip , and many other stuffs which to her is useless . Hell , she says next time when i go overseas on my own she wont dare to give me much cash already . Argh !
The Kose white mask is hell cheap in Japan . Around 23 bucks for 1 with a black soap i guess . In Singapore , the standard price is 35 bucks ! Everywhere and anywhere 35 bucks , no less ! i grabbed 2 home from the shelves ! Really worth it !
i didnt dare to get alot of stuffs from Ghibli Museum which i sort of regretted . Cause it was only day 3 then . But i gotten the cute little Ponyo softtoy , little tortoro softtoy keychain and the tortoro 20 year old anniversary merchandise . Shopping at Disneyland was crazy . Stitch merchandise everywhere . Bought quite a number of stuffs and was also lucky to be there to celebrate their 25 anniversary . Full of special events were arranged . Managed to sit down and watch their Jubliation Parade . At night was another parade which was pretty nice . That day was last performance for that parade before moving on to their Halloween's parade . i watched from far and it was a pretty sight with all those beautiful lightings . The Disney key is a highlight for their this 25 anniversary . Means something like key to dreams . Disneyland was fun but was kinda ruin by the stupid rain that falls halfway through the happy trip .
Exprienced taking train in Japan at Shijuku station . it was super crazy ! Purely just looking the the map at the train stations will make you go crazy , or maybe even getting to the right station or entrance ! it is simply a place to be lost easily . But it was really an experience taking the train back and fro to Shibuya and Harajuku from Shinjuku station . Japanese all stand on the left side when taking escalator . Really one whole straight line on the left ! We are all so amazed when we first saw this scene . This is so unlike Singapore ! Not only this , many other little details are also very unlike Singapore . Even Taxi and bus drivers' outfit !
Japan really has a good culture . Just that i have problem with the language . Ohya ! Did i mention i walk one round at the Red District ? it was so much of an experience ! Giggolos everywhere ! And they are really handsome . They are all standing along the streets giving out leaflets . 4 of them even posed for us to take photos . So nice of them . XD Walking just one round was already more than enough to explore the place . Cause is isnt a nice place to stay long at with so many guys around even though they look suteki .
Well , said enough for a short summarise . Day by day posts / updates with images will be done when i have the time . Hopefully i can still remember the happenings then . (: