i was so excited that night . i kept tossing around my bed , couldnt fall asleep . Well , lucky i still manage to pull myself out of my bed after only that very few hours of sleep . Cause i had to report at the airport T3 7.45am . That is a super early time ! Left home even before sun rises .
Walk around inside T3 after all the check-in are done . During the hours of flight , i had a bad flu ! Worse still , when the plane starts to land , all the air pressure came forcing into my ears and it was a terrible feeling . ): Felt better after landing at Narita Airport but not my feet . Blisters ! Quite a bad one . And i had to walk a super duper long way that seems so endless , like walking forever from one platform escalator to another , to the check-out point . ):
- At Narita Airport's washroom after getting my luggage off the track
Onigiri was the first food i ate when i arrived Japan . Bought it at the airport and ate it on the bus on our way for dinner .
But before dinner , we were told to get some snacks from a mini supermarket for the days in Japan . The restaurant for dinner is only behind the mini supermarket .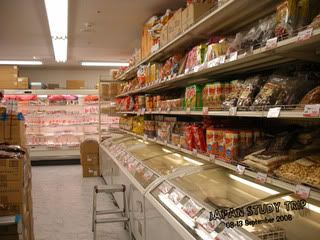 A table of 4 and i sat with Grace , Esther and Emmanuel . The restaurant is like Seoul Garden - bbq . But pit is very unlike Seoul Garden's . Able to cook meat and the grill has big long holes . If not careful , food may fall into the holes . And the fire is also quite strong . Just within awhile our food got burnt . & we never really succeed anyway . Luckily there is still cooked food if not good luck to us . XD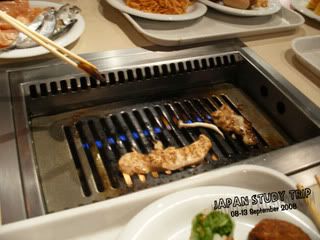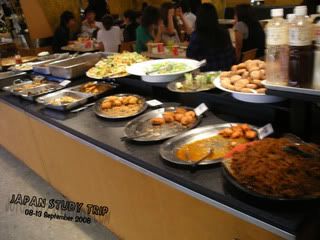 Rei celebrated her birthday with many many thin candles . 25 candles i guess . The cake looks like those typical vanilla cake we see in Singapore yet it tasted strawberry flavor . So cool right ?! But , of course , after my first bite i didnt continue eating more . i dont eat & dont like strawberry flavor .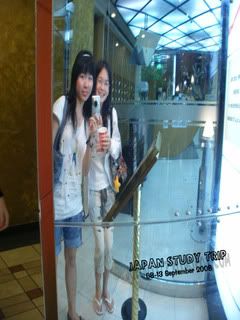 - Me and Esther outside the restaurant
- Taxi everywhere & traveling in taxi is EXPENSIVE
After dinner , it was time for us to book in our hotel rooms and my roommate was Grace . Upon entering the room , it surprised me as it was small ! Small room and also small bathroom . So small ~~ Not as i expected from Japan . ):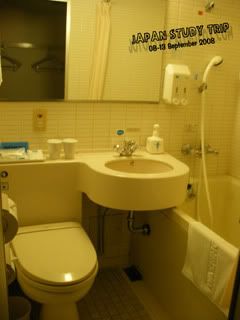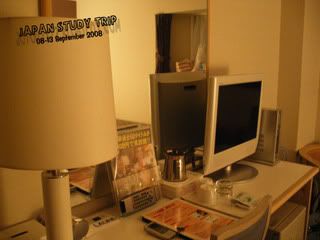 & this is my pajamas ! :D
On the first night , i dont know why i wasnt really that tired . i woke up like around 2am plus (Japan time) but luckily i managed get back to sleep again . From day 2 onwards , the whole day were scheduled with activities . More tiring .
♡ End of Day 1 .