There's a submission tomorrow but have yet to complete it ! All because of Maya !
But still i have to try my best and solve whatever problem i have ! ):
05 June 2008 , Thursday
On that day , i went to Chinatown and i saw a
"Tamil star"
& guess what's next ?!
i took a photo with her !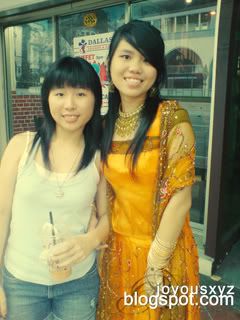 HAHAHAHS ~~
That's Hua lah !
She was doing photoshoot in Tamil's outfit for Paraathi's friend . & the whole photoshoot took up the whole afternoon and evening !
Arrived at a shop with Min , Hua , Paraathi and her friend .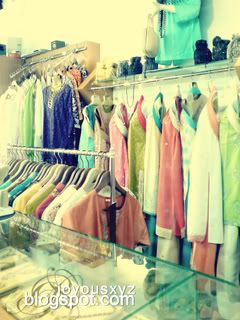 After mingling for sometime , the "incharge" has finally arrived to direct the models . Prepared everything which includes make up and dressing up .
After that , start of the photoshoot in a restaurant - Dallas .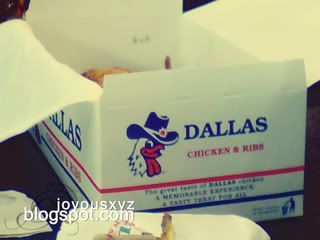 - Tasty Chicken is Yummy ! (:
Everything wasnt that professional as i thought . It was super budget and the shots doesnt have the photoshoot feel . Simply more of plain photography , like how you take with a normal digital camera . Hopefully it will turn out better after editing .
Night time was spent shopping in
Novena Square's Cotton On
. & i got myself a new
light green cardigan
. It costs only $7.50 ! Super Oh-My-Lollipop lah ! The prices are all dropping lower and lower .
Back to school again but this time was for Jeanine Lim's extra lesson on camera techniques - Dolly and Crane .
i arrived in school early to get help for my Maya . Though one problem (smoke) is solved but there's still another one (egg yolk) . But still ,
Thanks Veesheng
!
Jeanine's lesson was quite tiring .
Imagine yourself fixing the equipments like how you do your puzzles . Plus the equipments arent that light !
Dolly :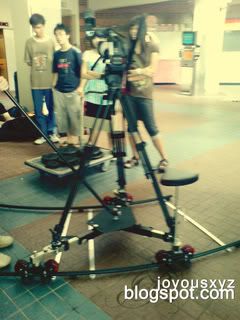 Crane :
Too high to see the camera screen and turn the camera ?
There's a remote control to turn the camera and a small screen .
COOL RIGHT ?! (:
After the whole lesson , my production group went to rakee for filming locations from Douby Ghaut to City Hall . We found few suitable locations but before we start filming , we have to get permission first .
That night i went over to Bugis Street to find Peng . & i finally bought the dress i wanted . Peng bought 3 shirts from her shop for Me , Hua and Min .
Thanks Peng !
(:
- This is the (mini) dress i bought (:
Pearl white and golden little round circle stickers turn my new hard disk into this :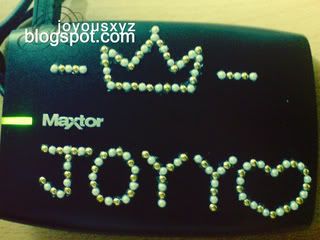 - Quite hard to decorate with the logo at the center (left side) there .
06 June 2008 , Friday
YESYESYES ! i finally met up with my dear primary classmate , Huiyun ! i haven been seeing her for
MONTHS
! She's always busy with schoolwork !
& we chatted quite alot !
Seriously i miss primary school days ! & probably
6A gathering + chalet
this year end before some of the guys enter NS .
I find the effects is good . Especially the sound effects which will totally bring you awake even when you are feeling sleepy . Overall is a
nice thrilling movie
.
But
one thing i dont understand
is why must Peter always called for a war and then when he saw that his fellow Narnians were losing or were going to lose , he would call them to fall back . He should plan probably .
Donut Factory
's donuts are always tempting me !
The donuts are so soft
unlike other donuts .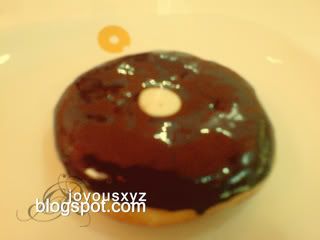 This time i ate two !
So Yummy-licious lo !
i think i will be nervous when i meet Lollipop . Cause is like meeting your idol which you never think you will meet so soon !
i'm gonna be broke soon if i continue spending like nobody's business ! ):
* Continuing my long long journey to meet my dearest Lollipop *