For the past few days , i have been enjoying myself , with wonderful food too ! & i enjoyed as if is a holiday and there isnt any assignment for me to rush . Like so relax lo ! But seriously , i have tons of assignments to be completed by next week . This will sure fill up my days with busy-ness .
Alrights , i shall start updating my days starting from
last tue
...
♥ 13 MAY 2008 , TUESDAY
i met
Jiaying
after school to get birthday present for
Rachel
at IMM . i took 105 over and that was when i met this nice old aunty who actually asked me twice if i would like to have a seat . ( She took up both seats but is okay since she was kind enough to ask ) She didnt actually ask but did a signal instead .
In IMM , coincidently met some of my
CSCC
clique ( hua , nathan , hweesheng and kiantiong ) . ( Seto joined them not long after . )
In the end , Jiaying and i bought a Kuromi for Rachel . Hope she likes it ! :)
After that i went to eat Ajisen with my CSCC clique . i didnt eat much O.o as my mum bought my dinner .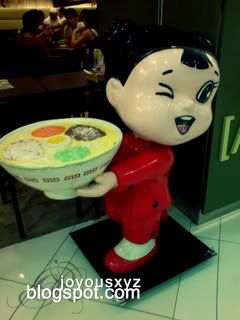 ♥ 14 MAY 2008 , WEDNESDAY
it was girls' day cum Kellyn's Birthday Celebration . Honestly , after knowing for like 1 year plus , this was the very
FIRST TIME
we went out together .
TOGETHER AS A GROUP OF GIRLS !
Celebrating Kellyn's birthday , there's sure to have a present for her ! We got her a COOL present -
Vouchers
!
Are our self-made vouchers cool ? :)
We had
Suki Sushi
for our lunch+dinner meal at Cineleisure . AND IS A BUFFET !
HOW GREAT ?! :D
There's different sushi for our grabs !
♥ I LOVE SUSHI !!! ♥
& i ate alot in the restaurant ! :)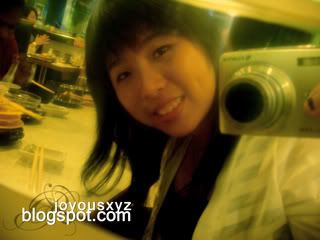 ♥ i find this photo way soooo COOL ! *GRINS*
And a group photo before we left ! ♥
i want to show EVERYONE my new piano ! VERY COOL !
★
★
★
★
★
★
★
★
★
TA-DA ~
MY PIANO ! Cute right ? So MINI !
( of course is not my piano lah , just saw it randomly in the Toys' Section in Takashimaya ! )
♥ 15 MAY 2008 , THURSDAY
Together with hua , we went hunting for nice
pink
top to meet up with Rachel's birthday celebration theme ! Our hunt started at Jurong Point where we met Jiaying .
Next was Bugis but Jiaying didnt come along . We went over to peng's previous workplace before having dinner and hunting for
pink
top . Really been ages since i last bought a pink outfit . XD
Other than a
pink
top , i bought a new pair of shoes too ! & I LOVE IT ! :D i saw many nice pretty top and dresses . i'm now tempted for more shopping sprees ! But where's my free/leisure time ?
The rest of the time was spent slacking in peng's previous work place .
i've bought this pretty dress from peng but i haven paid nor collected from her . Probably soon ! :) New dress to my wardrobe ! WHEEEEEEE ~ ! Thanks to my DAD ! :D
Ohya ,
i'm really thankful to my mum
! Cause that day i forgot to bring out my phone and only found out when i was reaching school in my dad's car . & i called my mum telling her to pass me my phone during my breaktime . She did ! DAMN that lecturer ! He released us late . Which means , my mum waited for quite some time .
This make me recall my primary times . Whenever i forgot to bring this or that , i would call home and my mum would always (cycle ?) bring it to me . :D
♥ 16 MAY 2008 , FRIDAY
Hmms , 16 MAY , what day is it ? IT'S RACHEL'S BIRTHDAY DAY ! :D
Rachel , Thanks for all the treats ! Hope you enjoy yourself ! :)
Pink Gang was out that night .
DID YOU SAW THEM WHEN YOU WERE IN ORCHARD ?!
They were out for a mission ! That was to celebrate Rachel's birthday ! :)
Movie was our first activity . We watched " What Happens in Vegas " . The movie was okay . Just that my mind is filling too much of CGs . ):
Dinner was held in Mariott Hotel .
YUMMY FOOD ! *Drooling*
The mango icecream is sooooooo sour !!! it totally doesnt taste like mango ! :(
- Jiaying and i did this for Rachel ! :)
The ex-yuanching students covering parts of our body/face parts . XD
THE PINK GANG !
Then we proceeded back to the hotel room at Hyatt .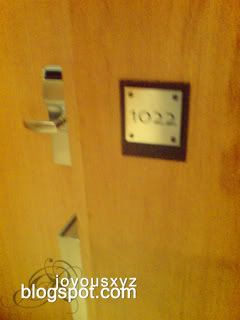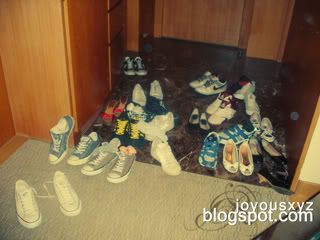 its a good choice to place the shoes at the doorway instead of walking around still with shoes on .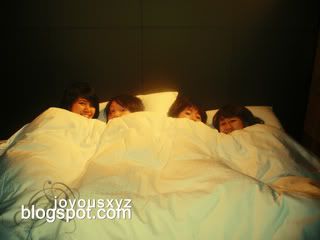 OPPS! XD
Later on that night , they played blind mice . i didnt join them as i was watching 模範棒棒堂 & 我愛黑色會 using Jiaying's labtop ! XD
i fell asleep while watching ' Notebook ' . Alright ,
& i snored
! ):
Next day while watching ' The Millionaire's first love ' i fell asleep too and
snored too
. ):
At that time , not many were left in the hotel .
Lunch-ed at McDonald . Then , Rachel , Jiaying , hua and me went to watch ' Made of Honor ' . Seriously , i was too tired then that i went on and off , struggling to keep myself awake too . So i didnt really watch the whole movie with understanding . ):
P/S -
i dont understand for what reason to do such prank . Taking life so easily like is so worthless that you can play with it . Please stop the childishness and get a life .
i shall end my post with photos of me wearing
pink
!
♥
♥
♥
♥
♥
♥
Excited to see ? XD
♥
♥
♥
♥
♥
♥
Here you gooooooooo !
*SWEAT* What a long post ! :)