Happy New Year Everyone !
明けましておめてどうございます〜 ♡
May 2013 be an awesome and happy year for you. And hope all the unhappiness are left in 2012 ! It's a brand new year , so let's start a fresh !
I'm graduating this year. Life sure does have a difference for me this year . But I won't know what they are till they happen gradually or when time is nearer . I just hope everything is gonna be well and smooth . I'm also looking forward to overseas trips this year. Hopefully it's gonna be 'tripS' and not 'trip'. hehehe (*´艸`*)
♡ Incoming Mails ♡
My first mails in 2013 on the second day of 2013 ! (¬_¬) Mails are arriving slow for me since last month. I'm still expecting more mails arriving. ٩(๑˃̌ۿ˂̌๑)۶ *impatient*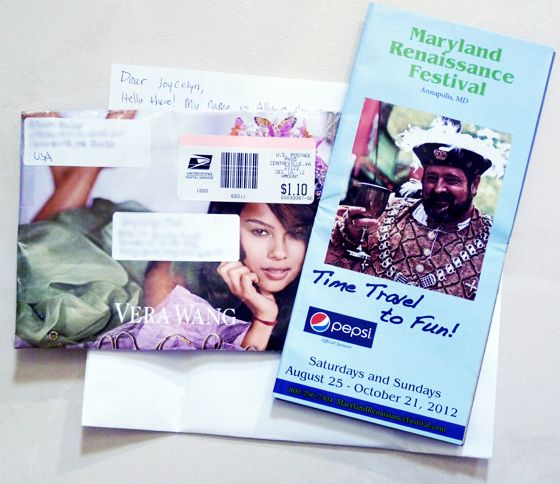 ⋙ Penpal letter swap from Virginia, USA. (swapbot)
⋙ 3 rolls of washi tapes that i ordered online.
When I first received this letter, I was excited about receiving mail. Then, I saw Singapore stamps. I thought a local swapper has mailed me tapes. Because I ripped open the penpal letter first, after awhile I recalled the local mail isn't from a swapper or any special gifts to me. It's actually my online earlier ! (๑•́ ₃ •̀๑) Anyway , the tapes cost me only SGD2 each ! Hohohoho ~ (o≧∀≦o)
i still wanna more washi tapes !!! it's so hard to find chio (pretty) ones in Singapore at affordable prices ! Tsk !
⋙ I don't think these are the standard stamps. Look more like printed stamps to me. But anyhow, they still look prettier than those all texts and numbers printed stamps.