Tiring Wednesday was spent doing re-shooting of our production at Kellyn's place . Things didnt go well as expected . First we didnt have any toy gun with us for the scenes . Next was the worse of the worse that will go GG for any production work - we didnt have any DV tapes ! Ended up have to get them at Hougang Mall . Hence most of the time was spent getting stuffs . ):
In the end we still managed to get some shots done . Most of them are foleys with many NGs . Well , time flew faster than we expected . By the time i reached home , it was already past midnight feeling super tired after a whole day to school and production . However , this isnt the end . We still have scenes to re-shoot or haven shoot .
One of the scenes we needed "blood" and i went to do the mixtures like what was shown on the backscene of 黑糖群俠傳 - 枇杷膏 + Red food coloring .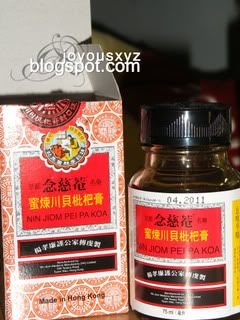 PLUS
GIVES YOU THE MIXTURE IN THE IMAGE BELOW !
From this image looks still quite okay lah . Cause of the flash . XD
HMMMMS ...
One whole day of lessons later in the day . No captain's ball training . But i guess i will be trying to rush through Jennifer's homework . For goodness sake , is only
HOMEWORK
which means
GENERAL PERFORMANCE
! Dont know so piah for what . Cause our homework seems to be modelling a production scene - must note the scaling , add windows , doors , and where what which how ~ ORZ ! And they are just only HOMEWORK ! Assignment simply just haven started putting in thoughts . No life siaaaa ~
OHYA ~!
Yesterday was so cool . Ah Man was online and chatted with a group of us at his MSN Zone created by a fan (also a incharged in WOO i guess) . Everyone bullied him at first , then he slowly shoot back . ): Anyway still fun chat with him though his reply was zillion years slow (but there was a moment he was fast) . Why doesnt ABC/Eric be like him joining us in chat ? That will sure be fun ~ HOHOHOHOHOHO .
Elmo is coming Singapore soon , so does the dance competition and my birthday ! *CHEERING* I CANT WAIT FOR MY LOVELY WEEKENDS ! ♥