♥ Holland Road's DXO Fish Bee Hoon is
DAMN NICE
! i have been graving for it for SUPER DUPER LONG & finally have it for today's dinner .
♥
i just cut off my long fringe
. Freaking hard to cut as my fringe is long and thick enough to cover my vision ! @.@ But at least this time i cut it at least much more better than before though i regretted for not leaving my fringe slightly longer . Hopefully fringe grow fast ! XD
(Aiyah , i'm never satisfied . Ignore me !)
♥ i've been "flipping" through Japan's gyaru magazine since yesterday online . OhMyLollipop! Japan fashion is so LOVE !
i want to be a gyaru too !
XD
i want curl/wavy hair dyed chocolate brown !
But i scare i regret after that
. ):
& Japan's fashion magazine is more interesting than any other fashion magazine !
♥ Never think Study Tour as a Holiday Trip .
For the Japan Study Tour i thought i would be a like-a-holiday-trip but i was wrong ! Yesterday received an email from a lecturer that
we have to do presentations to the school directors
. Everyone has been splitted into groups and each group have to do a presentation on the assigned school or studio (which we are visiting) . And my group is assigned to do on
Nippon Engineering College
.
ZZZ . Forget it ! Think that the presentation is nothing and enjoy !
♥ i hate salesgirl/man keep following me when i am doing shopping alone in a shop . My mother hates it too .
♥ i think heels are prettier than flats .
How i wish i can simply wear heels everywhere i go , and flats just when i need for a rescue from those aches . HEHEHEHS .
♥ i miss my skinny days which is before i enter secondary school . XD
When i was P4 ,
Alright , i know i'm short !
& the weight is @.@ !
When i was P5 ,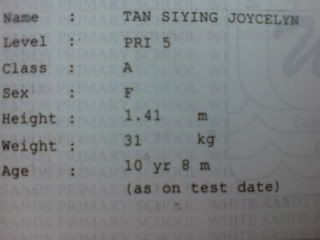 When i was P6 ,
When i was Sec1 ,
In just ONE year , i actually increased GINKCUF 10.5 KG ! *Screams*
No wonder i can jump so well then , cause i was light ! @.@
But still ,
I WANT TO BE SKINNY AGAIN !
):
& this random post end emoingly ... XD