My group did not manage to borrow a camera ! :(
Many students need for assignments & now also need for NDP rehearsal .
Forget it , i shall make use of the time to complete my 3D assignment which the deadline has extended to next Wednesday ! (: Lecturer is nice enough to add 2 more days .
After buying blusher from
Face Shop
on Monday , i somehow got attracted by the Face Shop . Today , i actually wanted to see check out their loose powder but i ended up buying 3 mask sheets . i have yet to try any one of them .
i went crazily looking through all their products' reviews when i reached home . The reviews make the products sounds so heavenly ! i'm now thinking getting more from that shop . Especially now is GSS period . DISCOUNT ! XD But in Korea much more cheaper . The price is about half of the normal price !
$100 spent in one or more receipts within 1 month can get the Membership . i actually thought of getting it
BUT
after i found out something . i decided not to purposely spent so much just to reach $100 for the membership . Cause it will definitely sound so unworthy .
WANT TO KNOW WHY ?
Cause the membership only allows you to have the
pathetic 5% off
unless during sales like now , 10% - 30% off for
EVERYONE
and addition 5% off for
Members
!
How much you can really save from the 5% ?!
@.@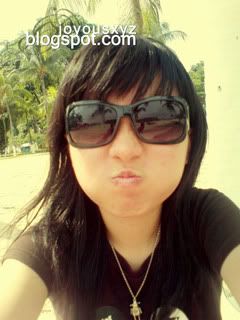 Unless i really spent more $100 or else i wont want the Membership Card . In reviews , users said until like the products are really so
heavenly
. They even mentioned that the good results are shown like after using for the first time ? Or probably few times ?
i'm gonna try to see if it really works well for me ! (:
★ Here is where i read my reviews if you wanna read up too:
http://www.flowerpod.com.sg/forums/lofiversion/index.php/t12564-0.html
♥ PS:
i hate drawing BUILDINGS ! i have been drawing since i-dont-know-when and have already drawn i-dont-know-how-many mafan drawings ! :(
Not like normally how we draw , but like an architecture ! Z z z .
i dont and wont want a Draw-buildings career lah!
& soon , we will be adding colors to our drawings - Water Color Painting ! This is hell man ! i hate painting ! My painting sucks ! ):
Not only that , we have to go and get
SPECIFIC
brands, thickness and colors ! Very troublesome and wasting money !
ROARRRRRRR !!!