Hello peoples ! i'm back to blog about LOLLIPOP !!!
But i wonder if any Lollipop fans reading . Well , nevermind ... i dont care either ! XD
6/12 was really a whole day ! Super tiring . i actually slept at around 4am and woke up near 6am . About 2hrs sleep only ! But to think that i'm going to meet Lollipop , it made me so sexcited !
Long queue oh ! But Yiping's friends were super fast . When my friend told me there were already fans queueing , i went to tell Yiping and the next moment she told me her friends were already making their way there . i was like Oh-My-Lollipop ! That was freaking fast reaction .
However , what's the use of going there early when the
FIRST COME FIRST SERVE
basis is totally
USELESS
! it was Lunar who told us that it would be based on first come first serve basis and was also Lunar who told us to start the queue at somewhere they instructed us to .
WHAT HAPPENED IN THE END ?!
When they gathered the VIPs ( by the way there are near hundred of VIPs , so is like what the hell lah ! ) , other fans thought start queueing to enter . And nevermind , we told Lunar BUT THEY DID NOTHING & THEY DIDNT KNOW WHAT TO DO !
ORGANIZERS DONT EVEN KNOW WHAT TO DO LEH !
(dont know what to do then dont organize lah ! @.@)
And so , they continued to allow fans in . FANS oh ! NOT VIPs ! Like then everything went like HELL !
*Make noise*
i dont know what and why ,
many fans started pointing out that 王心淩
was sitting at the table not far , wearing shades and holding her handphone smiling . = =
i dont know true or not cause i could not manage to see with my naked eyes !
i've got free Channel [v] fan but i want the blue one ! :(
& i managed to buy the Concert DVD & the 2nd edition for the First Album . Ohya ! I'M ONE OF THE LUCKY 300 FANS ! Wheeeeeeeee ~
" WHY WHY WHY ? "
Cause "they" only bring 300 copies of the Concert DVD to Singapore ! So little hor ? @.@
All because of Lunar , we could not manage to grab a good view at the first level . Luckily there's second level and managed to get the center view !
Then ___________________ (fill up yourself , i'm too lazy to type !) .
Finally finally , after waiting for so long , my SIX LOVES finally appeared on stage !
Their dances are so L-O-V-E ! ♥
i really miss their performance !
Not long after , it was the start of the Autograph Session -
autosession.wmv
!
Let me show off some of the nice shots i have ! HAHAHAHAS !
- *Points* 廖俊傑的藍色内褲 !
&王子的是紅色 ! XDDD
- 帥帥帥 ! 不愧是我的六帥 ! :D
- 狗狗,你怎麽在這時候偷睡覺 ?! 起來啦 ! (滾地)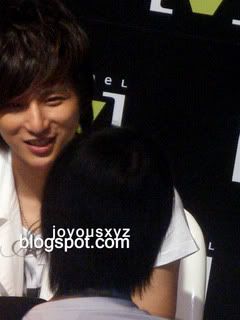 - Ohya , i never thought 楊奇妙's smile or eye expression can be so Oh-My-Lollipop 的殺 . & now i have experienced it ! 笑容和眼神實在是太殺了啦 ~ (我融化了!)
威廉一直在不停的自 HIGH !
(你也把我給弄HIGH了啦! XD)
小巨人很可愛,感覺越來越像小孩 !
(哈哈哈哈哈 ~)
傻子煜就一直在放電咯 !
(楊奇煜,你電到我了啦 ! )
王子啊王子,簽名不用那麽認真吧 ? 認真到沒什麽理我 !
(滾地+大哭)
我有在
吳打抗
po比較完整的活動分享帖子,自己去爬文吧 ! (嘻嘻)
&&&&
*CRIES*
I DIDNT HANDSHAKE WITH FEW OF THE GUYS !!!!
Cause the security guard kept pushing me forward !!! :'(
*CRIES*
*CRIES*
*CRIES*
COME BACK SOON !!!
快點在來新加坡 !!!
DO NOT RIP ANY OF MY LOLLIPOP PHOTOS OR I WILL RIP YOU !
DONT ASK ME TO SEND YOU PHOTOS ! ( Say i'm selfish for all you like , i dont care !
)
If you REALLY REALLY want , search them out at WOO.COM but i bet you cant enter the post if you are not one who normally post in the forum .